Greetings and welcome!
5pm- My late afternoon trail ride was a short but great one. We have not seen a lot of additional snow since my last update, but it continues to add up.
I was a little time limited so I ran the trail over toward Rapids and then a run over to Chickadee and back. The trails were ungroomed, most of the roads unplowed.
The plowed road that I was on was a little scratchy in places, but was better by the sides where there was an ice layer. Unplowed roads were mostly an ice base with a layer of powder on top. The trail between L11 Rd and Rapids and again over to Chickadee were deep in powder. I would guess 6-8″. It was nice.
Some of the base must have survived. I felt very few of the ground features, even on the big rocky hill. I heard very few rocks clop my skis. Chickadee had been plowed recently and only had about 2″ on top of an ice base. There were a few scrapes in spots, but mostly it was all rock n roll. Click a picture and when it enlarges  hover your cursor over the left or right side to see the arrow that advances the slideshow..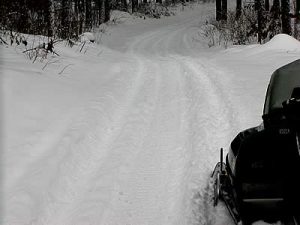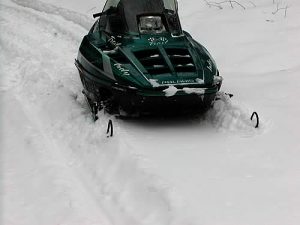 I haven't seen what they look like groomed yet, and a 25 mile ride is a small gauge of a big trail system, but it is hard to believe that the trails would be anything less than good for the weekend.
I am waiting to see more snow totals. I am at about 4-4.5 here. The TV said Crivitz had 7. Generally NW saw less, SE saw more.
The snow is not expected to go anywhere. I don't see a high temperature over 15 until Sunday. Thursday night will be sub-zero with -30 wind chills. Friday looks like a high of +5 and Friday night low of -10 to -15, with -20 to -30 wind chills. Saturday looks like highs in the mid-teens and overnight lows 0 to +5.
I think that I counted something like 7 chances for show on the 16 day GFS model as a parade of clippers are shown coming our way. There were no big thaws apparent.
It might not be 100% perfect but I had a great time riding. Saddle up!
RJB