Good morning and happy Thanksgiving!
The snow squall that I went through last night was a dandy.  It featured big snowflakes driven sideways by a strong wind. I'd guess the snow at about 1.5″ per hour, and the winds at 20 or so. With the snow just at the right side of the line between rain and snow it grabbed a hold of the frozen road and made it icy with the first half inch of snow. That was a challenge, but the visibility was the real challenge. As I mentioned earlier, I had visibility in the 30′ range most of the way, and total whiteout conditions the last 4-5 miles. Sixteen miles took 45 minutes.
Here is a picture that I tried to take of the snow up in the lights at the Lakewood grocery store last night. Note the snow adding up on the truck cap window to the left. It was not snowing at all 20 minutes earlier..
The snow tapered off quite a bit about 30 minutes after I got home. An overnight check found just under 2″ on the porch railing in the wee hours. Since then it has been above freezing and the snow is melting and slushy. The 8am back porch check found about 1/2 of soon to be ice slush with another inch of very wet snow on top.
And the morning look out of the kitchen window..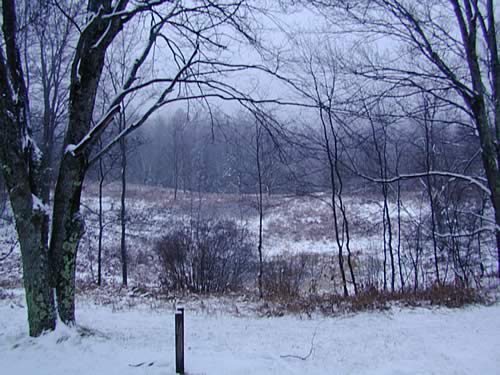 Once the crews get the roads salted travel will improve immensely. The temperatures are such that salt will be very effective. It won't take long to get roads into good shape, and main roads are probably already there.
They may freeze up again later tonight when temperatures drop off. The NWS is looking for lows in the 7-12ºF range, plus 15-25mph winds. Burr. Road salt is very effective over about 20 degrees, but not so much when you get into the teens and single digits. That is why I am saying watch for it to freeze up again overnight.
Also a lot of town roads and forest roads only get a little sand at intersections, they don't salt them. Those should freeze up and have an ice/snow base.
Overall travel today looks a lot better than predicted earlier in the week. The storm came early, and the timing and temperatures are such that they will get it cleaned up pretty fast.
I forgot to do events in the update yesterday, and we have a big weekend coming up the first Saturday in December. Saturday December 4th the NEW Low Buck Vintage Riders is having an antique snowmobile show and swap meet at the Gateway Bar in Crivitz. They usually have over a hundred antique snowmobiles on display, plus a swap meet. I like seeing all of the old iron and bringing back memories.. Had one, had one, wrecked one of those, broke my ribs on one of those, put a huge motor in one of those.. Wow, what is THAT?!
Also that Saturday, the Bear Point Sno-Cruisers is having a mock snowmobile crash incident by the fairgrounds in Wausaukee. It shows what the response to a snowmobile accident is about. They will have people there from the Wausaukee Rescue Squad, Wausaukee VFD, and the DNR. In addition you can sign up for snowmobile safety classes and win stuff in raffles.
Also that Saturday Koch's Performance is having an open house. The owner Leon is a former Eagle River racer and master of antique Yamaha snowmobiles. He has quite a few really cherry legacy Yamaha sleds, including some that raced and won at Eagle River. In addition to those on display, he will also be hosting other Eagle River racers for people to meet. Yamaha sleds, Eagle River Racing, and the Koch family from Koch's Performance go back 30 years or more. Check it out at http://vintageyamahasnowmobiles.com.
While a gravel ride is the tradition with the first couple of inch snow, and I even got gas for the occasion, I am going to say no to this morning. The snow is too sloppy and slushy, and it it too much like riding dry gravel. Maybe I'll change my mind later once I go out and play, but right now it dosen't look good. Curses, foiled again..
Have a happy and safe Thanksgiving holiday, and thank you for visiting!
RJB