Greetings and welcome!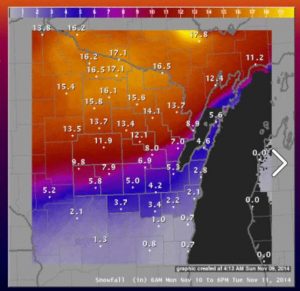 Yes there is a big storm heading our way. Tomorrow and Tuesday promises to get very interesting, as well as the cold blast for later in the week.
I have been paying a lot of attention to this storm over the weekend, checking forecasts and models a couple of times a day.
People tend to get a little excited about the first big snow storm, so this one has seen a lot of scrutiny. The models have taken it too far south, a bulls eye right on this area, and more recently, a path that would be north of ideal.
A couple of model runs had us getting blasted with 12+" of snow. I managed to grab a screen cap at what has been the top prediction so far. That is what we are seeing to our left.
My very latest guidance suggests that the storm will go a little north of ideal for us, bringing the heaviest snow to the far northern reaches of the state. That forecast would put us in the 4-8 range. That sounds a little more realistic than 14″, and I am good with that. It is a pretty strong storm, and it could bring more than 8″ somewhere. Predicting a 100-200 mile wobble in a storm that covers almost 1/2 of the country might get tricky, so all that we can do is wait and watch.
The UP could really get hit. If the system snows bring 10+ as currently predicted, followed by a couple of days of really cold and strong winds coming across the lake, they could really pile up the white stuff. One number that I saw was in the two foot range.
I only had one day this week to work on my stuff around here. The focus was on insulating pipes and setting up the well house for the cold weather behind the storm. That cold blast looks pretty real. We could see highs in the mid twenties and lows in the low teens by mid-week and for the weekend. It isn't wither yet, but is sure is about to look like it.
Have a good Monday and thank you for visiting!
RJB