Greetings and welcome!
We got down to -25 degrees last night. I actually heard a couple of different frost quakes where the ground goes BOOM as it freezes and moves. I will bet that the lakes were making noise too.
Today is sunny and up to 15 degrees so far. It is not expected to cool off much after sunset and we could see an inch of snow overnight. Tomorrow is expected to get into the upper teens but there will be some wind. After a low of -4 Saturday night Sunday could bring a high of 13. There is another inch or so of snow in the forecast for Sunday night.
I did see that the groomers were out Wednesday night. The trails looked like they laid down pretty nicely. There will be some stained or snirty spots but most of the trails looked nice. If I had a little less on my list today I'd be out there riding right now.
We have a radar run coming up Saturday.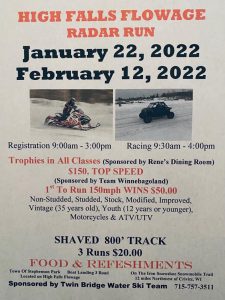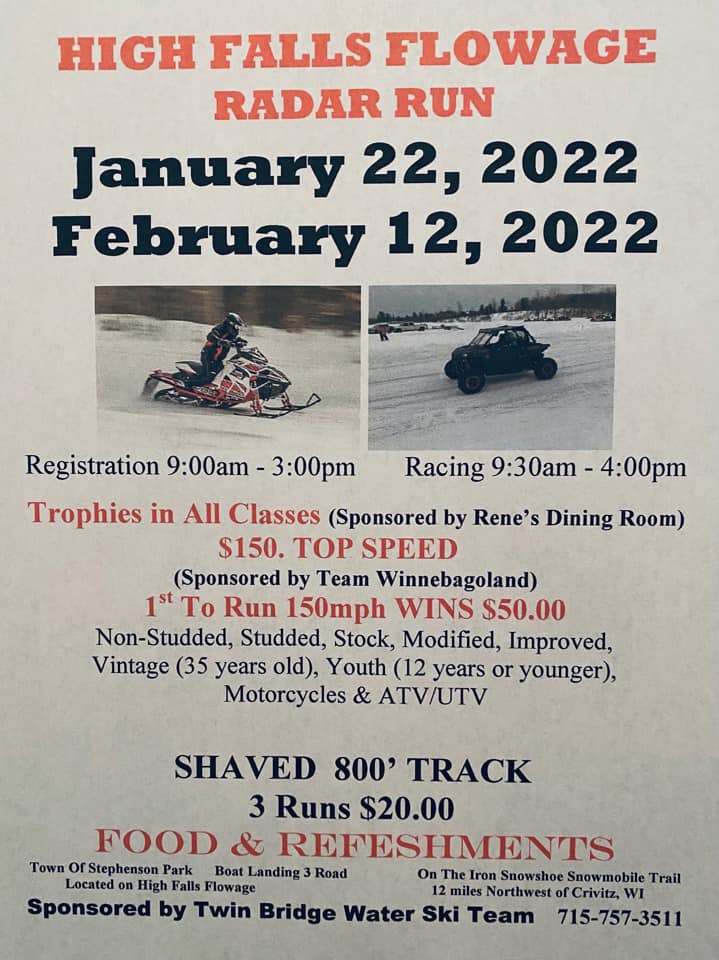 Next Saturday is the Paul Bunyan Club's Sno-Fun Day at Waubee Lodge.
Feb 5th there are outhouse races at Firelane bar.
The Firelane has new owners along with Caldron Falls Bar and Twin Bridge Resort. Stop in and meet the new proprietors.
There was some question about how busy it would be on the trails this weekend with the big Packer game Saturday night. Here is your chance to weigh in. No e-mail required.
[poll id="2″]
That's it from here. Have a great weekend and thank you for visiting!
RJB