Greetings and welcome!
We have a couple of things to update today. The first is the weather. The NWS has put a 20% chance of snow showers or freezing drizzle into the forecast for this evening and the overnight hours. It doesn't look like much but it doesn't take much to matter.
The weather forecast for the weekend has only changed slightly. Today we could hit 30. Saturday and Monday are expected to be about 35. Sunday is the worrisome one. The NWS has us for mostly sunny and a high of 44. My morning check of the European model pushes that up a little with  a high of 46 in Rhinelander, 47 in Iron Mountian, and 48 in Antigo.
There is not much in the way of snow in the near term. There is a chance of snow about the 8th, and a much bigger storm about the 12th.
My final event list for the weekend has a new one, a Winterfest in Wausaukee.
From the Dun Good Club..
CLUB EVENT: Feb 1st, the "22nd Annual Brat Fry" at Rocque's 8-HI Club in Goodman. Brat Fry begins at 11:00 AM and lasts until food is gone! Cone by trial or by car! Club ride to the brat fry & beyond. See FB page and web site www.dungood.com for more details. NOTE: The N.E.W. Low Buck Vintage Riders will have a club ride to the Brat Fry, leaving the Dun-Good building at 11:00 AM. See the N.E.W. Low Buck Vintage Riders Face Book for all the details. Everyone welcome to ride along! Old sleds, new sleds, atv's & utv's….all welcome!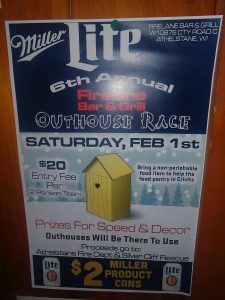 I will be at Rapids Resort Saturday from noon until at least 5pm. Stop by, say hello and get a picture!
Have a good weekend and thank you for visiting!
RJB