Greetings and welcome!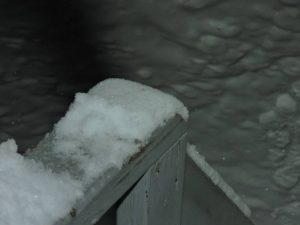 Yesterday's snow added up to about 3/4″ of very fine powder. It will help, but it isn't the whole answer to needing some snow.
The NWS and weathermen put out statements that roads will be slippery because salt and the chlorides that they use to melt ice don't work below about 15 degrees. Even in the city and on state highways people can be in for slick conditions.
In the meantime the cold wave continues. Last night seemed a lot warmer, but we still got down to -10. We could see 10 degrees today, 12 Saturday, and the about 8 for New Years Eve and Day. Lows will be in the -5 range tonight and Saturday night, and -10 for New Years Eve.
There is still little snow in the forecast until about 1-7-18.
You can ride around here but it is going to be very thin in a lot of places. I am not riding and Oconto Co trails remain closed for a lack of snow. The snow does get better as you go north. Right now the lake effect snow areas in the UP look like the place to be.
Have a fun and safe New Years Eve, and a happy, healthy, prosperous, and snowy new year, and as always, thank you for visiting!
RJB