Greetings and welcome!
We have had some very light snow today. So far it is just a dusting but the NWS says up to 1/2″. There is another inch possible tomorrow.
Yesterday's travels took me from Crivitz up to Pembine, across to Laona on Hwy 8, and then down 32 to Lakewood, and then home. The trail between Crivitz and Middle Inlet had a lot of dirt just south of Middle Inlet. Other than that the trails seen from the road looked fabulous. The trail south of Beecher along the highway and railroad tracks looked great and the groomer from Ranger City Riders was out making sure of it.
If I had anything bad to say it would be that some places looked icy as the thaw and freeze packed the trails tight. Riders with sleds that need a lot of free snow for cooling would need a dip in the powder once in a while to keep it cool. Hopefully today and tomorrow's snow will address that.
This weekend we have two events. One is the outhouse races and raffles at the Firelane Bar. They have new owners there, but they still put on this big event that benefits Silver Cliff and Athelstane fire and rescue crews.
The other one is the ice fishing contest out by Party Island on High Falls Flowage.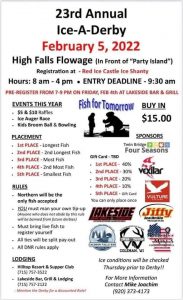 Next weekend is the big High Falls Flowage Fish-O-Rama and Winterfest.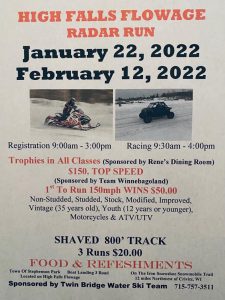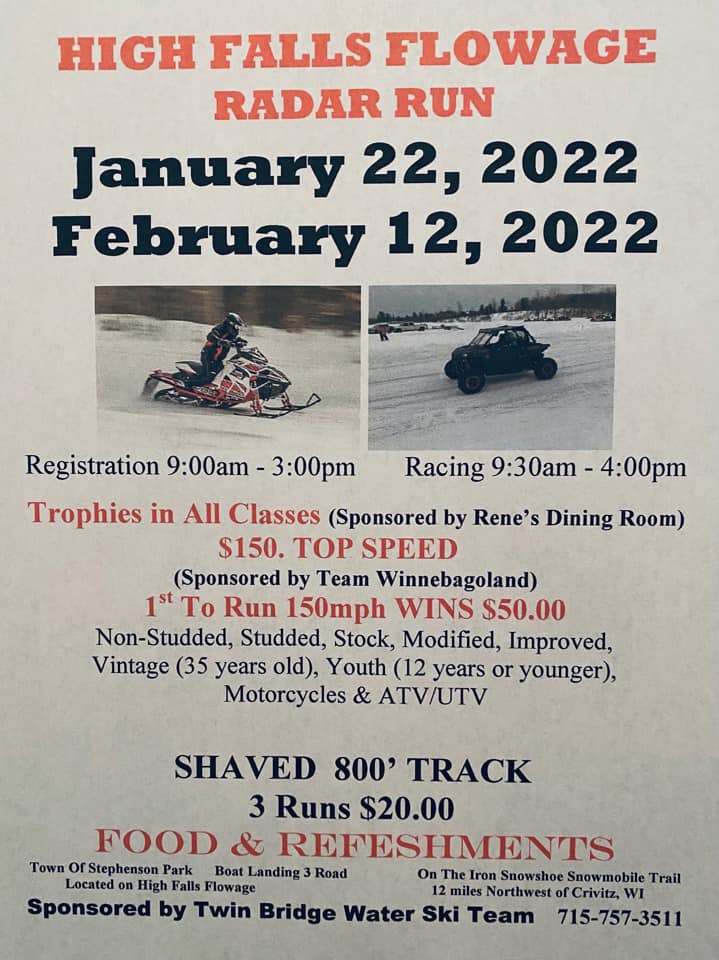 We have been in a deep freeze for most of January. Yesterday we had a high of 15 and I saw -11 on the car thermometer last night. That cold weather has helped us keep a good trail base through a lot of traffic and very little snow. Next week looks a little warmer with most days expected to have high temperatures in the mid-20s. Tuesday and Wednesday could get into the mid-30s. Hopefully they don't get too out of hand. There is also a chance o snow later in the week. Hopefully that all works out for us.
That's it from here. Have a good weekend and thank you for visiting!
RJB