Greetings and welcome!
Today was a very good day for a snowmobiler. We are three days away from winter and it actually felt like it. It was cloudy and windy and most of the day was in the low 20s.
When I headed out for work at 6:45am the car said 19º, and it peaked at 26 at lunch. By the time that I drove home again it was back at 19.
Right now the Green Bay weather channel 2-2 is showing Crivitz at 20, Shawano at 14, and Wabeno at 13. Athelstane Weather is showing 18. That is ice making and ground freezing weather. Yee-haw!
We have had a very wet fall. The Menominee River is at its banks and the Peshtigo is running at levels that we would be happy about  paddling in spring. If we don't get a good frost into the ground before the snow comes we will be playing in the mud all year, and there will be a lot of it.
Item two is the ice on the lakes. I was talking to an ice fisherman tonight that said that last year on this day there was 15″ of ice on the lake and his truck was parked next to the shanty. This year bring a boat.
Our ice fishing friends, folks running racing and fishorama events, and people that like to lake ride should be very happy that it is finally cold.
While the week ahead doesn't hold a big deep freeze, overnight lows in the 20s and highs below 40 should keep us moving in the right direction.
Today in Wausaukee we saw a few fine snow particles blowing around and they gathered a little where the wind dropped them. A driver at work found very different conditions up toward Wabeno and Laona. He said that about 2/3 of the way to Wabeno it started snowing and the roads were getting
slick. Closer to town he found whiteout conditions in a snow squall and slippery roads. He must have seen some weather, the van was covered with salt when he got back. I checked the radar and it was just a few small band of intense snow.
While I was getting that van picture off of my phone I found another event poster..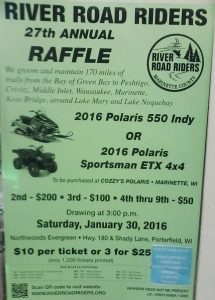 That will wrap it up from here. Have a good weekend and thank you for visiting!
RJB