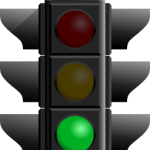 Greetings and welcome!
My truck is getting jealous of the little Indy Trail out front. The truck hasn't been started since Tuesday, the little Trail has a hundred miles or so under its belt. I rode to work last night, and was very happy with that decision on the way back. Conditions were so nice that I couldn't help but have a little permagrin when I got home.
It continued to snow yesterday afternoon and evening and we picked up about the inch or two of snow that they were expecting. It was just a little extra frosting on the cake. With the snow in the trees it was even very pretty.
Riders have been reporting good or excellent conditions. My travels have found nothing under good and almost all excellent. Weekend riders should be in for a treat.
Saturday we are looking at a very comfortable day to ride. The NWS is looking at partly cloudy skies and 27-31 for a high. Saturday night even looks good with lows in the upper teens. Sunday could bring mid-30s.
The storm for Sunday afternoon, Sunday night and into Monday is still a big question mark. The forecast models have parted company and now offer a couple of different ideas on how it will play out.
The European model has the low going over about Green Bay. That is still about 100 miles too far north to be a perfect hit, but would probably bring good things for us. I also will point out that a 100 mile shift in a huge storm's path is a pretty minimal adjustment.
The NAM and last night's GFS have the low going about over the Twin Cities, and north across the UP. That would put us mostly on the warm side of the storm, bringing 1/2-1″ of rain and a couple of inches of snow behind it.
Right now the NWS is going with a rain and snow wording, with some of the rain freezing rain Sunday afternoon.
Last night someone told me that positive thoughts bring positive results. I'm on board with that.
The way that I am seeing it the rain will be coming through mostly on Sunday night, which offers lower temperatures. There will also be some evaporative cooling as it falls. The latest GFS, just posted, is now back to the idea of taking the low over Green Bay, much more in our favor. In my glass half full world that could end up bringing a pleasant surprise.
In the event that we end up with the worst case scenario, an inch of rain, it still doesn't look that devastating. In the context of a 50 degree week, yes it would be a very bad thing. With well frozen ground, a blanket of snow, and pretty normal temperatures behind the storm, I am seeing it as having the potential to really build up our nice flat ice base. March is three weekends away, and we could get an extra weekend or two out of it.
I am not sure what to expect for weekend traffic. The family friendly temperatures and nice trail conditions suggest a very busy weekend. On the other side of it, with good conditions over so much of the state, maybe it won't be as busy as expected. I rode almost 100 miles Wednesday and never passed another snowmobile.
There are a lot of questing marks in my update today, but I expect that it will all end well with a lot of people getting in a lot of good miles, and maybe even having the weekend end on a big high note with the storm.
Here is another posting of the weekend's events..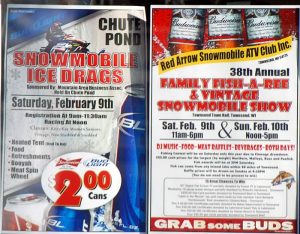 From the NEW Low Buck Vintage Riders web site..
On Saturday, February 9th, the Pemenee River Riders will hold a fundraiser Brat Fry at the Silver Dollar Bar on Hwy 141 in Pembine starting at noon. They'll have a brat lunch, raffles and prizes. Hope you can make it! The Silver Dollar is accessible by sled, atv & utv as well as car.
Please help support the trail system by supporting the clubs' fundraisers!!
I have a new event to add. Pickerel Fun Day & Schuh's Winter Plunge Jump In is Saturday the 9th. Check out Google for some video.
My apologies for not having the camera along last night. I met a few groups of riders and missed the chance to put their smiling faces on the net. I will have it tonight at Curve and Saturday at Rapids.
Have a good weekend and thank you for visiting!
RJB