Greetings and welcome!
It looks like a big weekend ahead with a lot of people planning on some riding. The trails that I have seen by truck since Tuesday have all been excellent. The snow groomed down into a nice hard flat base. Here are a few pix I did on the way home from work last night.
Looking at my film card I don't think that I posted these guys pictures from last Saturday night at Rapids after the vintage ride. Sorry 'bout that.
One last picture, snow coming off of a metal roof.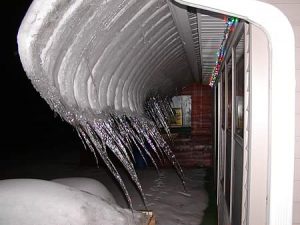 Hat tips to Dan and Jim for letting me know about these events in the comments..
Chute Pond Snowmobile Club is holding a "Blast from the Past" Vintage sled event at Red Maple Golf Course (formerly Black Bear Trail) in Suring this Saturday. The event includes a show and a ride, which will be held entirely on the golf course, so even non-registered vintage sleds can participate. Registration begins 9:00- 12:30, and the ride begins at 1:00 pm. Suring Fireman's Dance is Saturday night at the old Black Bear Trails Golf Course.
I will be at Curve tonight cooking fish and Rapids tomorrow afternoon bartending. Stop by if you get the chance. Other than that, have a good weekend and thank you for visiting!
RJB