Greetings and welcome!
The snow has accumulated a white layer here in Silver Cliff. I saw a few flakes at lunch, but light enough to question it. There were a few more flakes on the way home from work, but very few.
I could see big dark clouds with snow falling high up and far distant. Apparently some of it found its way here and we had a flurry or squall move in after I got home. When I went out for a little firewood at 8:30 the ground was white and the car was covered. There wasn't any questioning that.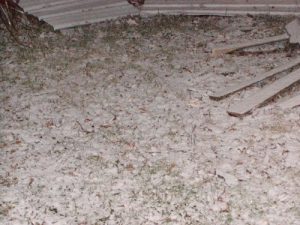 It wasn't enough to do much beyond qualifying as our first dusting, but it's snow!
The big push of cold air and unsettled weather has us cold tonight, and more cold and unsettled weather looks like it is on the way. Right now it is  in the mid-20s to low 30s in the area. With some light wind, wind chills are down into the upper teens and 20s.
I can't help but do the "What if this was 30, 60, 90 days from now.." thought process. It would be a cold one, but the daily chance of snow has its appeal.
RJB