Greetings and welcome!
We have a very warm week ahead. Yesterday we saw 40 and sunny and we are on that same path today. Tomorrow will be a little better with the same temps but with clouds. Tuesday night it is not expected to go below freezing (low of 35) and Wednesday we are looking at upper 40s and rain. After that the weather is expected to get more normal.
All of the trails in northern Marinette and Oconto Counties are closed.
Oconto Co has not opened trails yet and they were out patrolling over the weekend.
The northern Marinette Co trails are usually open year 'round except for during the spring thaw. As of today they are closed to all traffic. My guess is that they don't want inconsiderate people out on 4 wheelers and UTVs rutting up the trails while they are super soft and having the trail freeze in with big ruts that we ride the rest of the year. They will also be out working on them trying to clear and sign trails and pan in a nice base.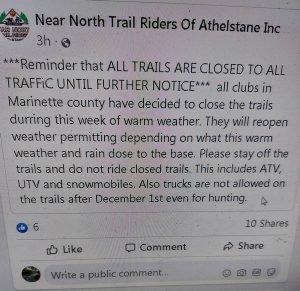 If it all goes well we will end up with a nice ice base that we can ride for a lot of weekends. We have a lot of snow, knee deep or better in most places. I saw a couple of pictures from over the weekend where the snow was over the front bumper of the snowmobiles. Hopefully it will stand up to the warm stuff and come out better than ever. One place that will take a beating for sure is plowed and treated roads. We will be starting from scratch there.
There will be some challenges in low spots and swamps. We had some frost in the ground but not a lot. When I was snowblowing the dog walk* last week the ground under the snow was not all that hard. Translated over to swamps and wet spots they are not going to be as frozen as we would like.
*Lesson learned.. don't snowblow the dog walk in high winds. When the wind shifts directions and gives you a facewash out of the snowblower chute it is nasty. It is funny, but only when someone else is getting the facewash..
We are on the way to my ideal scenario for the beginning of the season trails.. A whole bunch of snow, packed into a base, and then a little rain, and then freeze it all into a brick of an ice base that we can ride for a lot of weekends. Hopefully it goes that way.
Snowstorm reports gathered up over the weekend showed people in the area reporting from 9-12″.
That is it from here. Have a good week and thank you for visiting!
RJB