Overnight Report
Greetings and welcome!
Hopefully everyone had a nice Christmas. Mine turned pretty fun. We visited Curve Inn about 7 and went to a Christmas party later. At the Curve we met Lee & Susan who visit the web site, and snowmobiled over to visit and get a pizza. It was great seeing you and thank you for your generosity! I apologize that I did not have the camera.
Likewise great appreciation goes out to Neal & Lynn, Ryan & Salena and John who sent me some Christmas cheer yesterday. I am also thankful for generous gifts from my brother and the nice folks at Rapids Resort.
I am usually not a big fan of Christmas, but this one surprised me and really turned around my typical December case of SAD blues, which this year was particularly wicked. Thank you to all of you.
The trails got some use over the weekend. When I was out Saturday night they were a little snirty from the warm weather in the 20s, and there were a few bumps. From what I saw there was pretty good coverage with the base, and generally good conditions.
Christmas did come with a few lake effect flurries, and later on in the evening it actually made a layer of light snow. It didn't add a lot to the trails, but it was a nice bit of the winter wonderland thing.
I am a big fan of riding in the 20s instead of the teens and single digits. I will be enjoying some of the twenties over the next few days as I get the sleds fixed and out onto the trail. With the nice weather and conditions I am really on a mission to catch up and get riding.
Looming large is an expected warm up and some rain late week. The New Year's storm has taken many forms over the past week or so that I have been watching it. Earlier on there was a really ugly version with as much as 1.5″ of rain Saturday afternoon along with some 40s. Insert Mr Yuk here.
More recent versions of the GFS have backed off considerably on the rain amounts and the timing of the storm is a little earlier. The latest tonight has the storm total QPF down to 0.75″ or less, and some of that would be snow. By Saturday temperatures would start dropping.
That sounds a lot better than a total downpour on the Saturday of a holiday weekend. A little rain followed by some snow and colder temperatures is a nice base builder. The models seem to be going that way.
The wildcard is the temperatures Thursday and Friday. We have a classic scenario setting up that reminds me of how a car's oil pump works. We have high pressure to the east rotating clockwise. The approaching storm is low pressure, which spins counter clockwise. Between the two they pump warm air up from the Gulf of Mexico.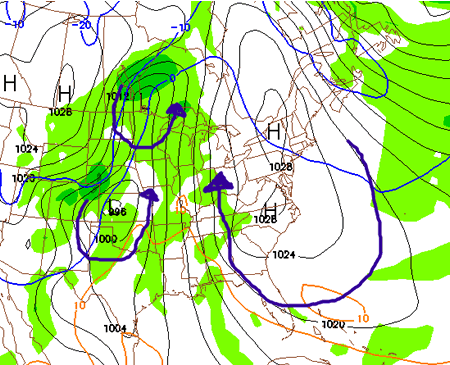 If you will note the blue line with the zero on it and not too far north of it a similar line with a -10 designation. Those lines represent temperatures in the atmosphere at the 850 millibar level, about 5,000 feet up. I use that to get an idea of where the rain/snow line will be. Usually I look for about-4C at the 850 level to make snow. Note that this chart for midnight Friday morning has the zero line all of the way up in Hudson Bay.
The end result is that we are looking at a couple of warm days Thursday and Friday, and the precip will likely be rain for quite a ways to the north and west. The NWS and HPC are in pretty good agreement with Green Bay seeing 42 Thursday and 45 on Friday. Between being higher, farther north, and having a lot of snow cover, we should see temps on the order of 5-7ºF lower than that. Also on our side, the storm will bring clouds to keep the sun at bay, and again, not as much rain as was once forecast.
What is guiding my thinking that this will not turn out too bad is that while this is a classic big storm scenario, and some of the early forecasts were pretty dark, some of the ingredients aren't there. Number one on my list is that there is not a lot of really cold air to make a big thermal gradient. The -20 line is way up in Canada, almost to the Arctic. Without that really cold air to conflict with the warm stuff from the Gulf, the storm is going to be missing some key ingredients to make it a strong one.
It does eventually deepen according to the GFS, and by Friday night it will be a pretty decent 990mb storm. As shown, by that time we will be in the colder air in the southwest quadrant of the storm. How fast that all takes place will be the difference on how much of the precip comes in what form.
The bottom line? Right now it could be a lot worse in this scenario. It is trending away from being really harmful and toward being a base builder. The timing is getting better too. Instead of rain Saturday, it looks like it will switch over to snow Friday night or Saturday morning. If I got to write the script the whole thing would come a little faster so that it freezes up by the weekend. It is trending that way.
Something else that should enter into the discussion is the surprise factor. The scenario was once shown as a classic double low pressure storm similar to above, but the storms were much bigger. The first one was warm air and pretty much rain, the second was a foot of snow. It is a classic setup, especially around New Years.
The best storms are seldom advertised a week in advance. This one has only been shown as a major snowstorm in the earlier runs a week ago or so. In between the GFS has shown a lot of variety in scenarios, but not a big snowstorm. The odds are long based on the models, but there is a chance of this looking very different in a few days. It is nothing more than my conjecture, but I like where it is going.
Right now all that we can do is watch and wait. Things are looking up, maybe it will get good.
I like that the first of the year will start bringing more snowmobiling events. Right now we have the Near North Poker Run going with the Athelstane club. It started 12-18 and the drawing is 1-8 at the Northwoods Bar.
January brings a lot more events. There are radar runs on Caldron Falls and High Falls Flowages, the Paul Bunyan Snow Fun Weekend, and many other great things to do.
I will also welcome getting back to bar tending at the Rapids Resort on weekends when the trails are rideable. That is a good chance for me to meet people that visit here, and a chance for you to get a picture of your group for the site here. Those weekends are very fun for me.
Also coming up this year I will be out on the trails a few times with the fancy Nikon catching some high res pictures for the various snowmobile clubs and tourism organizations that I share pictures with.
In addition to action shots, I will be looking for nice family or group shots for submission for use in the tourism guide and Iron Snowshoe and Crivitz Recreation Association's sports show displays. These are different from the pictures that I take for use (only) here. It is a different camera and I'd need permission to publish them. If you have a group that you think would look nice and is up for it, let me know when you are in the neighborhood. I don't know if they will use them or not, but we can try submitting them.
Tomorrow I will unravel the mystery of the frozen RXL driveline. That one got all new bearings front to back last year, so it was a surprise taht it was locked up. My guess was that I picked up a rock or foreign object pulling it into the shed this summer.
An interesting theory came in Christmas night over suds when someone told of the story of a guy that got his slides so hot that the track clips melted right into them, freezing the track and benching the sled. Recalling that May victory lap that I did on dry ground before pulling it into the shed, I am not going to rule it out. If all goes according to plan I should know by noon.
Well I am going to wander off and plug away at my inside work so that when it crosses 20 this morning I can go and play.
Have a good week and thank you for visiting!
RJB