Greetings and welcome!
Ha I got the year right! There is still time. I will put 2015 up there yet.
I woke up this morning to some lake effect snow on the car. It was light here, but on the way to work there was more. About 3 miles east it was a solid inch, and another couple of miles found almost 2″. It went back down to an inch or so until about 4 miles west of Wausaukee. From there east found little snow.
I will take it. Snow is snow.
The next chance for snow comes about Wednesday when some light stuff moves in ahead of a late week storm. It doesn't look that heavy, but the TV Says that it could be 3-5 by Sunday, and my guidance is in agreement.
The storm looked stronger yesterday, it would be good if that changed back. Even if it was 1/2″ of rain ahead of the 3-5 it would help our cause by freezing in one of those wonderful ice bases.
Behind that storm the GFS is showing us getting into a sustained cold pattern for the following 7-10 days. Right now I'd guess at 5-15 degree highs and about the same below zero at night.
We will be making ice tonight. We had a high today of 29, but the skies are clear and there is a nip in the air. Right now at 6:38pm it is already down to 11 degrees. We aren't going to get a lot colder, but figure that it will be from late afternoon until late morning.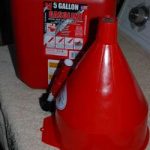 I tried out my new funnel yesterday and I am one happy guy. One of the cans had a couple of gallons of no-e premium in it and it went into the 500 as fast as I could pour it out of the mouth of the can. Appropriately enough, it was a Funnel King, and the 6 quart model. The price at Fleet Farm is cheaper than E-bay.
Have a good Tuesday and thank you for visiting!
RJB
9:45 Update- The clear skies and calm wind have taken us down to +1 degree. We will be making ice tonight.