Greetings and welcome!
It was a rough weekend for our snowmobile trails. Friday we saw 43 and sunny. Saturday was 48 and sunny. Sunday hit 54 and sunny. This morning we are already at 40 at 9:30 am, and climbing toward a predicted high of 42.
Surprisingly it didn't go as badly as it sounds. It is all about the sun. Plowed and treated roads took it hard where the sun could hit them. The main roads are bare and so are the shoulders. The side roads that built an ice base are hit and miss. There is still some ice, but there is a lot of bare too -where the sun hit them. Most of the open area trails that I saw showed distress and looked a little dirty but had a good base intact. The exception there is where it was plowed or worn thin and the sunny hillsides and hilltops.
On the other side of this is the sheltered trails. Yesterday late afternoon I went to the other house to check on roofs/ice dams/melting. I was quite surprised by the ride in. The top couple in inches of snow was as soft as meringue but everything under it was totally intact.
In the end it is ugly in spots but most trails fared a lot better than I expected them to. We need snow to fill in the gaps and there is none on the way anytime soon.
You can ride and have fun, but it is late season riding where you need to pick your spots and avoid road trails and sunny areas.
We had a busy weekend on the trails last weekend as people got in some miles before the big melt. Late in the day and later at night things really slowed down. I had a great time seeing old friends and by later Saturday night was in rare form. Thank you to everyone that made it so much fun!
Here are some pictures..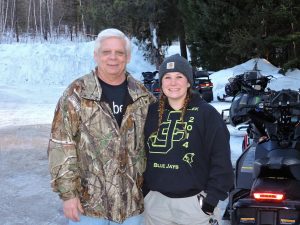 Have a good Monday and thank you for visiting!
RJB