Greetings and welcome!
We have a bit of a cold one today. At 11:15 we are up to 3 degrees F. Hooray!
It was cold last night too. Antigo hit -31 and Iron Mountain hit -24. We only got down to -20 here in Silver Cliff.
The NWS says that we could go into the teens tomorrow and even the 20s for Wednesday and Thursday. I am not as optimistic as they are. I hope that it happens, but I am skeptical. The GFS has the pattern changing after the weekend to a more active pattern with the bitter cold retreating back up north where it belongs. I just hope that the pendulum doesn't swing too far the other way.
Last weekend found a LOT of riders in the area. Many went to Fish-O-Rama and the radar runs at High Falls Flowage, others were just around to ride. This is typically a busy weekend. It was good to see people out riding while we can.
Here are some pictures that I took Saturday at Rapids. Thank you to everyone that stopped. As usual I missed about 20x as many people as I caught with the camera. Thank you to everyone!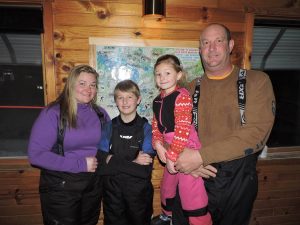 As always you can hit me up using the contact form way at the bottom of the page and I can get you the full resolution 300dpi image. I have to size these down for the web.
The cold over thee weekend actually served us well. The powdery snow is less prone to building whoopties and stutter bumps than a warm day. I think that the trails held up a lot better because of it.
There is no snow in the forecast this week other than a chance of flurries Thursday into Friday. After the weekend the GFS is showing a lot more snow chances. That is good because the sun is getting stronger. We actually pick up about an hour of daylight in February, and the sun will be higher in the sky and farther north too.
From what I heard the Winterfest and radar runs were a huge success. That is great to see. That event is sponsored by the Twin Bridge Ski Team that puts on all of those wonderful ski shows in the summer. The past few years Mother Nature has dealt them some ugly blows for weather. This one was cold but still a huge success. It is good to see.
I am off to go brave the cold temperatures and get some work done. Have a good Monday and thank you for visiting!
RJB