Greetings and welcome!
It was quite a weekend for snowmobiling in the area. A lot of riders were out on the trails and at events, but it wasn't crowded or overwhelming.
When I was in Lakewood and Townsend Sunday at sunset there were still a lot of riders out. Usually I see a lot of trailers heading south around sunset, but the trails were still busy. I guess that will happen with a nice day, great trails, and a fresh blanket of snow.
Thank you to everyone that stopped at Rapids Saturday and Saturday night. It was a very fun day and it was great to see and meet everyone.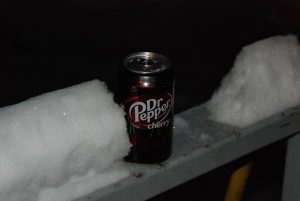 The day Saturday turned out to be a little warmer than expected, but not too warm. I saw 20 on the thermometer at about noon when I was at Rapids.
We were expecting maybe an inch of snow Saturday night and got surprised with 4-5″. There were medium large flakes and they were coming fast at times. It added up to a nice little bounty of snow. ( 2nd layer)
We are under a winter weather advisory this morning. There is a storm expected to bring 3-6 today, and I have seen one NWS forecast suggest the possibility of 8″. The HPC QPF on the storm is for 0.25-0.5″ of rainfall equivalent, so none of that sounds too far out of line. As of 1:30am the first line of snow is at about mid-state on the radar.
The warm week ahead doesn't look as bad as it did last week. I am seeing mid and upper 30s for highs and 20s for overnight lows. Warm days can get out of hand at this time of year, but at the moment it looks like it will be ok.
There is a weak storm expected about Thursday with a possible 2-4 before the cool down to mid and upper 20s for Friday and the weekend. The storm for next weekend has weakened on the past few passes of the GFS model. That is just as well, earlier versions had some rain before it switched over.
There was a notation on Athelstane Weather about considering shoveling the roof. I have been getting a little nervous about how much snow is on the roof and the roof of the blue room. They have a pretty good layer going, and the house has some wicked ice damming. It would take some pretty warm weather to melt the layer, so it might need some help. I don't have an easy answer for that one yet.
Anyway, I had the pleasure of meeting and seeing a lot of riders over the weekend. Here are some pictures from Saturday.
Thank you all very much!
I will update later with snow totals.
Have a good week and thank you for visiting!
RJB