Greetings and welcome!
Some people got some miles in last weekend. Those willing to put up with the gravel and bare spots between the good patches got some trail time in south of here.
The inch or so of snow that we had along with the colder than normal weather helped to hide a lot of the sins.
This week doesn't look too bad for weather considering the time of year. Other than Tuesday and maybe Friday going into the mid or upper 30s, most of the week looks to stay in the 20s.
There is some snow possible for Friday. That looks like a 1-3 or 2-4 snow, but the NWS is entering the possibility that it might not all be snow.
Beyond that, it looks like another storm will miss us to the south late next weekend. Later on the GFS there are big storms that look good for about the 9th, 15th, and 17th of March.
Last week Athelstane Weather brought their new web site on line. It really is very nice. It is just loaded with features including everything from river levels to space weather. He obviously really spent a lot of time developing it, and it turned out great. Take a look!
I got some bad news late last week when we heard about the passing of a friend Marty Cooper. Marty was very active in the River Road Riders and Bear Point Sno-Cruisers. He put a lot of effort into working on trails and other club functions and was always there. He was a good guy and will be missed by a lot of people. There will be more about it on the Bear Point site very soon.
Last week a guy brought me a little 70s era Polaris kid's sled to work on. It isn't a Colt, it is smaller than that. It is more like a Star or something. It has a 175 laid down horizontally, an open chain drive, and cable brakes. Under it are bogie wheels instead of slides. The Serial no starts with a 9, so maybe it is late 60s.
I fixed a lot of little stuff on it but got dead ended when it came up with no spark. Maybe some of you vintage guys can help me out finding parts. I will try to snap a picture tomorrow when I go out to work on it again.
Speaking of vintage guys and pictures.. A couple of guys from the Balls Beater Run vintage ride down in Lena made it all of the way up to Rapids last weekend. Nice to meet you guys!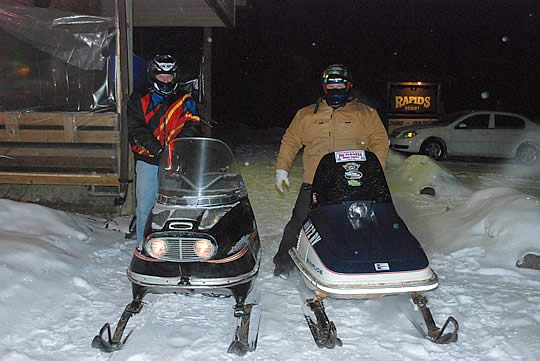 That is about it for today. Have a good week and thank you for visiting!
RJB