Greetings and welcome!
See below for my morning update.
3:15pm
I went out and snowblowed part of my driveway. It only took about 10 minutes to get cold in my light work clothes @ 4ºF. I am very comfortable that this was a 3-4″ snow depending on what the wind did with it. Maybe I will find more when I plow my road. I wouldn't be surprised. It is a little more open on the far half of it.
2:15pm
A look out of the front door a few minutes ago found at least 3″ of new snow, probably more like 4″. The radar shows the storm just about over but the look out the window radar shows it still snowing very fine flakes.
I am going out to snowblow and plow later and will get a better feel for what fell. I will bring a camera. It doesn't sound like much but 3-4″ of very fine snow is a nice addition.
10:45am
Northern Marinette Co has been upgraded to a winter storm warning as of 9:30 this morning.
I went out back with a tape measure about 20 minutes ago and took some measurements in the wood yard. They were in the 2-3″ range, but with a qualifier.. with the wind this will be a hard storm to measure accurately. I would be surprised to see a 4″ total.
It is snowing lightly with a steady wind out of the east. The radar is not very impressive but it is still snowing.
The TV said that there were places by Wautoma and Red Granite that were in the 7-9″ range. Green Bay reported 4.5″. I expect that those totals will be updated on the noon news.
5:30am-
-1ºF Snowing good, 1/2″ down. Winter weather advisory, Winter storm warning
Good morning! The news buddies are very excitable this morning. There is about 2″ down in Green Bay and they have people out on the deck and out driving around. The traffic segment shows people crashing on freeways already from south of Lake Winnebago up to Green Bay. The bottom of the screen is showing closings, and there are a lot of them, including Crivitz schools.
Closer to home the line between the winter weather advisory and the winter storm warning is the top stair step of Marinette County. I live very close to the top corner and about a mile north of the line. Right now the NWS is predicting about 5″ here. Farther south where they could get lake effect snow predictions run as high as 12″.
The wind is going to be a big factor in this storm. There are 20-30mph winds expected to come off of Lake Michigan south of about Hy 64. With a high of +6 today that cold wind is expected to fetch a lot of lake effect snow. Around here the wind will be a little lower, and the lake effect snow will be less.
This is a lot of excitement over a clipper type storm. The difference here is a lot colder air and stronger winds. The fine snow and strong winds are expected to bring whiteout and near blizzard conditions.
People are getting pretty excited about the cold air behind the storm too. Wednesday some areas near Lake Winnebago are forecast to have a high temperature of -15. This is some deep cold that will reach all of the way to the Gulf of Mexico. Tuesday New Orleans could see snow mixing in with some rain and only a high of 40 Wednesday.
Saturday I mentioned to a few of you that I hoped that the pendulum doesn't swing too far back when we finally get a break from the sub-zero cold. I must have seen this cartoon before. Saturday we could see a high of 25 and Sunday mid-30s and a rain/snow mix. Not too far away the forecast is for mid-30s Saturday and upper 30s Sunday with rain. Isn't that just like WI weather.. -15 for a high Wednesday, 38 and raining Sunday.
The NWS forecast does not reach Monday yet, but from what I see on the GFS model we are in for some warm (35+) weather and significant rain. It does not last long before more normal temps return. Also on the GFS there is a massive storm showing up for about Feb 10th. It might not even be there in tomorrow's model runs, but it is impressive today.
Last night we actually got a little break from the bitter cold. We saw a low of -4, a lot better than Saturday night/Sunday morning's low of -24.
Saturday afternoon I was at Rapids and I got to meet a lot of riders. I probably missed getting pictures of twice as many groups as I caught. If I don't ask you, please ask me. I like doing it. Thank you to all of the people that gave me donations too. Thank you all very much!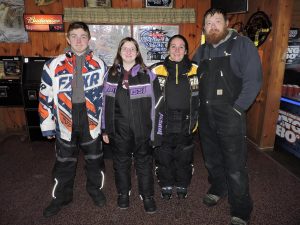 I will be updating totals over the course of the storm like I always do. As of 6:15am I am up to about 3/4″ and it is snowing small flakes at a good pace. The TV just showed Green Bay getting close to the 4″ mark. Bring it.
Have a good Monday and thank you for visiting!
RJB