Greetings and welcome!
It didn't snow much more overnight. The flakes continued a while after I had updated but didn't amount to much, maybe an extra 1/2″ of fluff. That is ok, we have a nice blanket of the stuff.
Now we have warm days today and Wednesday, followed by another storm Thursday. Today looks like low 30s, and tomorrow could be in the upper 30s.
The storm for Thursday didn't look like much in earlier model runs, but now it looks like a good one. The models vary a little on where the rain/snow line will start out, and it could start as rain. Right now the guess is 4-8, but it is a little early for that. It is showing up as a strong storm (980-988mb!), with southern moisture and a generally positive projected track to bring us snow. With that deep of a central pressure there will be some wind too. It should be a big storm for us. The storm for the weekend has pretty much vanished from the models.
Well it's time to make the donuts. Have a good Tuesday and thank you for visiting!
RJB
Monday night snow update
Greetings and welcome!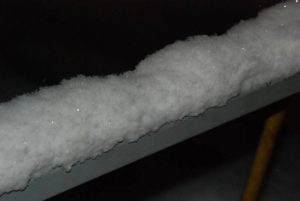 The storm brought about 4″ here at the house. There was some wind early on that drifted Saturday night's snow and off and on snow during the afternoon. After dark the last wave of snow on the radar intensified, bringing bigger flakes and more of them. That wave alone probably brought almost an inch.
Talking to a friend in Wabeno late afternoon, he said that they had big flakes earlier, so they might end up with bigger totals.
I didn't plow Saturday night, for the inch before it, or today. The driveway and plow truck measured about 8.5-9″ since last week. ( Guess what I am doing in a minute?..)
In my earlier update I was talking about how I was getting a little nervous about snow on the roof. As long as I was outside I shot a picture of the shed roof and the picnic table. That is a good bit of snow.
RJB