On Saturday February 23rd, 2013 I rode along with the NEW Low Buck Vintage Riders on their Racer & Lana Rae's to Pines Ride. We had a fresh blanket of plentiful snow and a 30ish degree day that set the stage for a great ride.
The day started with the old snowmobiles on display.
There was a raffle for a barn fresh '77 Arctic Cat Cheetah, the 'Barn Cat', along with tickets for the raffles at Pines and back at Racer's later. The Cheetah actually ran and was pretty restorable.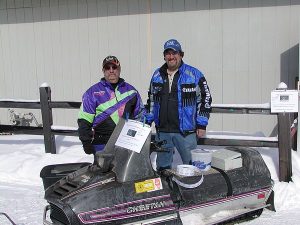 The ride took off at about 11am. The trails were nice with plenty of snow, and the ride went at a pretty good clip considering the old snowmobiles. There was an open hood or two, but everyone made it there pretty quickly.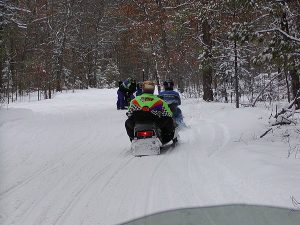 When we got to the Pines in Crooked Lake there were already some snowmobilers there, and the NLBVR Crew filled up the parking lot in an impressive fashion. A lot of people were enjoying the old snowmobiles parked outside.
Inside they did some raffles. Prizes ranged from a bottle of booze or a T-shirt to a nice framed print. We definitely filled the place up.
Usually the modern sled ride in back of the ride, but I took off early on the way back to catch some pictures along the trail.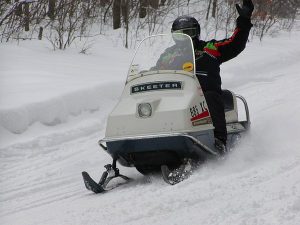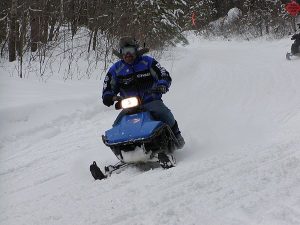 Back at Racer and Lana Rae's there were more raffles for things like T-shirts and hats. They gave out the Dead Sled Award and raffled off the 77 Cheetah.
The Barn Cat found a good home.
I had a really great day riding with the NLBVR crew. The people were fun and friendly, the old snowmobiles were great, and trail conditions were even nice.
I did a lot of pictures over the course of the day, and below is a gallery of the pictures.
You can click a picture to see it full (web) sized. Once you open one, hovering your cursor over the left or right side will bring up an arrow to advance to the next frame.
To save a picture- If you want to download the original I made a directory of them. You can  hover the cursor over the picture in the gallery below to get the file number of that frame (it should pop up on the bottom left of your browser) and then go get the original.  Go here and right click the link and chose 'Save Link As..' and save it to your computer.
What a great day! Thank you to everyone that made the day so much fun!
RJB