Greetings and welcome!
8:30pm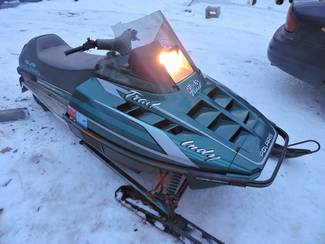 We have returned to the upper 20s after a 43 degree day. The trails along Hwy C looked a little distressed at sunset with some open spots and dark staining. The one thing that we had going for us was that the sun stayed behind the clouds.
I stuck around Rapids for a few hours and there were not many snowmobilers. At that point I headed home to take advantage of the warm day.
I spent a lot of the afternoon working on the 94 Indy Trail. Other than the primitive suspension I really love that little sled. With a 500 fan cooled motor it is simple and light, and really good on gas.
Now it is also trail ready with full tanks, valid registration, a glove compartment kit, and a thorough check over. I still want to take the suspension out and service it, but it is ok for now. I finished after sunset so I haven't been out riding yet, but it was pretty fun to ride around here. I have a ton of stuff to do tomorrow with the storm coming but I do expect to get at least a short ride in. It is about time.
We have another warm day ahead tomorrow with a high of 36. There is a chance of some light snow and some fog, so at least the sun won't be a factor.
The storm for Sunday night into Tuesday morning is shaping up like a good old fashioned winter storm. The projected path of the low is very favorable for us, and the TV has us in the 6-10″ band. The NWS is predicting 6″ for us for just Monday, with more snow and possibly some freezing rain or drizzle Monday night, followed by a little snow into Tuesday. At about 24 hours out it is looking very promising. It would be great if it came home in time for all of the events next weekend.
The rider that I talked to at the gas station after sunset said that he found nice trails north of Hwy 8 but found local trails in distress with snirt and open spots.
That's news. Have a good night and thank you for visiting!
RJB
2pm
I bailed out on my guest bartender appearance at Rapids Resort this afternoon. The trails are pretty quiet and there were not many sleds coming through so we will have to try it another Saturday. I spent a couple of hours there and it just wasn't happening so I headed out to make productive use of my 40 degree day.
RJB