First Snow update-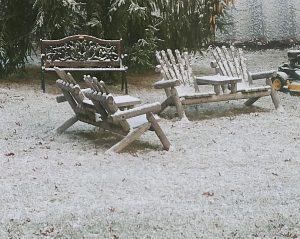 We had snow Friday morning that covered the grass at sunrise. Later in the day we drove to Antigo. That ride was a mix of big ugly dark clouds, and when we got under them, fairly heavy snow driven by very strong winds. It was not enough to accumulate on the roads, but some collected on roofs and grassy areas.
The snow squalls must have moved north or northeast, because once we got back to Silver Cliff there wasn't much going on and no accumulations.
This morning we had snow again. Big goose down flakes added up to an inch or just a little more before it was over. Roads got a little slushy, and in shaded areas, they got a little white. The gravel driveway held snow. Now at 1:30pm it is 40 degrees and the snow on the grass is going away.
–
Winterizing
I went out to the well hose today and set up a heater. I was nervous about the last couple of nights. Everything was fine, but the unheated well house had an inside temperature of 36 degrees. That isn't anything that will damage plumbing, but I am always nervous about it. Anyway, the NWS is predicting a low of 23 and a high of 41 for Sunday and Monday. Once we are past that we are out of the woods for a while as far as freezing plumbing.
Everyone's spot is a little different as far as winterizing plumbing. Most people will be ok. If the pipes are right out in the open a low of 23 might be getting a little risky. You know your situation better than I do.
Have a good weekend and thank you for visiting!
RJB