Saturday 12-1-18
1am- I measured 3.5″ on the front step. It might be a little more farther away from the house. It isn't snowing much but the radar shows at least one more wave of precip coming overnight. I will be back in the am.
11:30pm- I lost my internet connection after writing my 11:10pm update. My sat dish was totally snowed over, had to go out and broom it off. Right now it is snowing hard enough that my satellite internet barely works, even with a clean dish.
The snow picked up again. I was walking in 3-3.5″ of pretty wet packing snow. The current wave of precip was red and orange on the radar before it hit the magic line and turned to snow. It is snowing pretty good, and with 30ish temps it is wet n heavy. There is another heavy line of precip a few hours behind this one.
My smartphone bit the dust today so I am without my backup internet. If I go down again I will be back eventually.
11:10pm- I measured 3″ on the front step just now. It isn't snowing much, some big flakes, more tiny ones. The wind out of the east has picked up. We are in a little bit of a dry slot right now, but it will pick back up shortly. It looks like there are some more waves of precip coming later.
10pm- Solidly 2″ down, snowing at a pretty fast rate, medium flakes. I would guess the rate at 1-2″ per hour.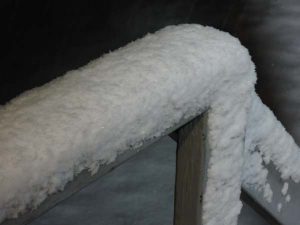 9:20pm- Almost an inch down, moderate snow
8pm- 1/2″ down.
Greetings and welcome!
The storm for tonight and tomorrow is looking pretty real right now. The TV says 5.5″, the NWS is on board with 5″. My latest model guidance agrees, and by my estimation 5-6″ might be a little low. Panic time getting everything ready..
I missed that the NEW Low Buck Vintage Riders antique snowmobile show is today. It is in Middle Inlet at 141 & X in the big parking lot at the town hall. I wish that I could go.
Gotta run, be back once the snow starts.
RJB