1:30pm
It isn't the depth that matters it is the density. The snow is very heavy for how much that we got. The GF's 28″ Troy-Built snowblower (presumably 10hp OHV) could only take a half scoop at a time and then it would only throw it about 12 feet. We will have ample snow for the volunteers that make our trails to work with… Maybe even too much.
My town road has not been plowed yet. I understand why, we are on a small side road and not high priority. NBD
Noon Saturday
I don't think that we will have a really solid total on this storm thanks to some really strong and gusty winds. I am going to put my best guess at about 9-10″. Some places that I measured had as little as 6, most were in the 8-9″ range. The table on the deck shows pretty close to a foot.
We did have 3 very short power outages overnight. That isn't surprising as trees get full of snow and take lines down.
I am going to go and try to clear some of it. It is supposed to be warm today (33ºF) and I am going to try to deal with it before it gets settled too much and gets hard to move.
The plows have been out and most main roads have been cleared at least once. Roads will improve quickly with the 33 degree temperatures making salt very effective. There will be blowing across the roads, so some places might have some drifts.
Here is the deck picture as of 11:55am.
Time to go get sweaty moving the stuff.
I did open comments on this post. Usually I keep them closed due to a lot of naughty spam from Russia. Your comments are appreciated. I do have to manually approve them though because of the naughty Russians so there will be a delay.
5:30am
A quick look out the window shows 7-8 pretty easily. We still have more coming from the back of the storm according to the forecast radar, including some heavy bands. Another 2-4 is not out of the question.
The storm has pinwheeled out and the leading edge of it is all of the way at the Atlantic Ocean. Usually that doesn't go well for back of the storm snow potential. This one looks a little different. There is still some moisture feeding the snow bands at the back of the storm, and the northeast winds could bring some lake enhancement.
Here is what the deck looked like at 6am. The table is a pretty good representation of what I expect to find out in the driveway. The chair had some enhancement from when I was shoveling the deck but it is fairly close  to what I expect to find in the yard.
Here is some trail news..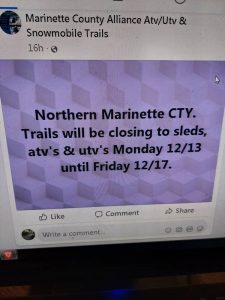 More to follow..
RJB