Greetings and welcome!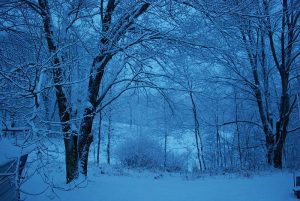 The view out of the back window as the sun rises at about 7:30 is a pretty one. The snow is sticking to the trees and making a nice winter scene, and the blue from the dawn is pretty too.
I went out and checked the front and back step with a tape measure and saw about 2″. Looking at other spots like the stump and picnic table it looks more like 3″. At that point my sunrise total is 2-3″.
It is still snowing pretty good out there, and the radar looks like it will continue for a while. We are in a heavier band right now and in a happy place just north of the rain/snow line at. Hopefully we will see 4 or 5 out of it.
Here is a picture of the TV (Oh Bullwinkle that trick never works..) showing the heavy stuff still coming. It might also give you a point of reference of where I hail from. I am right on the edge of the top stair step, about a mile or a mile and a half north of the line.
Last night I was out in the blue room until about 11pm and was pretty productive. The antique snow blower (early 70s Mongomery Ward) and the snow plow are now both winter ready and running good. I will be playing with both this morning once the snow tapers off a little, and a little firewood too.
The snow plow and snow blower had to get finished up before the shop would be open for snowmobiles. Today is that much anticipated day when I pull the first snowmobile into the shed and get started on the preseason check over.
I expect the little Indy Trail will be driving in there with a little gas, some new plugs, and the storage oil in the cylinders burned out. That got a new track, bearings, slides, and carbides mid-season last year, so I am not expecting it to need much. With the simplicity of the fan cooled carb 500 I'd be surprised if I wasn't taking the first ride up and down the driveway by about noon.
The nice RXL is next up. Even though that one is in great shape, it is due for the fine tooth comb treatment, so that will be a little more of a project.
I am very happy bout the price of gas right now. When I put some in the car last night no E premium was 2.69 a gallon. I'd love to lock in a whole season worth at that price. For now I will settle for taking a couple of cans to town later.
Since I started my update the snow has been adding up. I think that it is safe to say that we have crossed the 4″ mark. There is more coming, so it looks like this will be a good snow maker for us.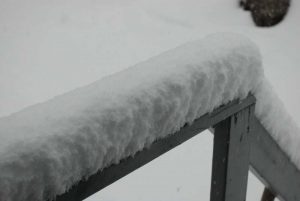 Well I am going to quit dawdling and go and get dirty. Have a good Saturday and thank you for visiting!
RJB