Merry
Christmas!
12:30pm
It is very warm out today. I was snow blowing in a sweatshirt. Area stations are reporting temps close to 40. The snow is settling and getting wet and heavy. It will be good for compacting a trail base, but not good for plowed roads.
9am
2-4" new snow
I took a ride to Crooked Lake last night when most of the trail stops in Silver Cliff were closed. I loved the ride through the woods with the snow falling. Had a great time @ DJ's Rockytop, and will be back.
Unfortunately I was in the car and not on the sled. Some of the ride closer to Crooked lake had me grinding through 3-4" of fairly sturdy fresh snow. Woulda been fun..
The trails that I crossed looked like they had decent snow, but it had not packed down into a base yet. You can easily ride but there will be terrain features right under the snow. Sunday's rain should fix that. If we get a reasonable amount of rain Sunday night it will soak into the snow, freeze, and make a brick of a base. That's the hope anyway.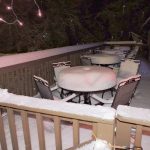 Here are the first pix from the new camera. The trail pic is from by Boat Landing 11. The deck pic was from at DJ's in Crooked Lake. I tried to take more trail pix, but the falling snow distracted the autofocus and it wasn't working. I suppose that is one of those problems that it is hard to be mad about..
Likewise I wanted a few deep snow pix with the snow in the trees on the way home, but it kinda wasn't a good idea to stop the car in those spots.
There will be more pix soon.
RJB