Greetings and welcome!
I had something(s) come up that really clipped the wings on my fun today, but I did make it over to the mock snowmobile incident. What a cool event.
This deserves a full write up and I only have about 5 minutes, so I will be coming back to it.
In short they brought three snowmobiles out to the ball diamond along with some trees to set up a simulated snowmobile crash in the woods. They had two go head on, and a third snowmobile rear end one of the original crash sleds.
The three crash victims were laid out on the ground. First the one victim called it in. Trail Patrol was the first ones there, and they aided dispatch on getting rescuers to the right spot, warned other riders to the danger ahead,  and rendered first aid as they could.
Wausaukee Fire responded with an ATV and ATV drawn ambulance, and Wausaukee Rescue responded with an ambulance and personnel.  The victim that called it in had an injured arm. Victim #2 had pretty severe injuries and was the first one out. The third guy was a statistic, and remained until the coroner and DNR could investigate his death.
The one thing that I took away from this big and loud is how long you will be laying there if you biff. The mock scenario was set in pretty much ideal conditions with responders aware ahead of time, responding from close by, and the scene right at the road. They were still tending to the scene and extracting victims 45 minutes later. Considering the closest hospital is another 45 minutes away by ambulance, and the crash might be 5 miles in from the road, that is pretty scary.
This was the first mock incident in the state apparently, and it was a great effort. It was a real eye opener. I'd like to see this required on video or first hand as part of snowmobile safety classes. Thanks go to Slug, to Ron Rost & the Bear Point Sno-Cruisers,  the Wausaukee VFD and Rescue Crews, Miss Snowflake & her family, the people that brought out the AWSC wagon, the Wausaukee Lions Club for the food stand, the DNR Warden for bringing their sleds and enforcement trailer out there, and Koch's Performance for proving the crash sleds. There was even a fellow from Pastor Fred's Food Pantry in Amberg collecting food or cash donations. The local business community really stepped up, and donated enough prizes that virtually everyone won one.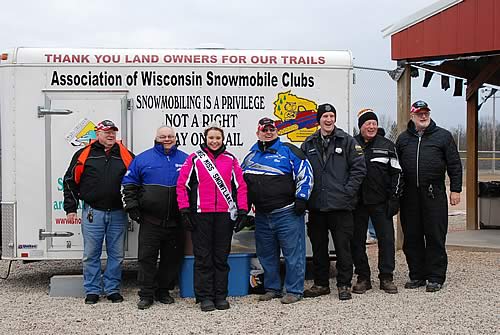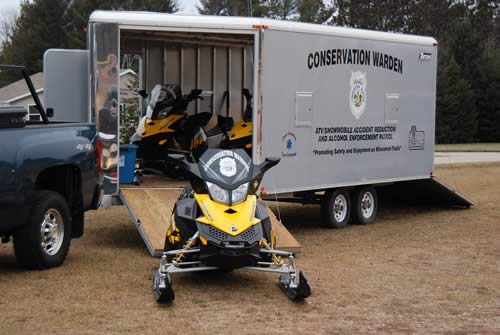 There is a lot more to talk about, but I have to run. It is too late to catch the Vintage Show, but if I really hustle I might get back over by Koch's. I doubt it, but I have to try.
Have a good weekend!
RJB