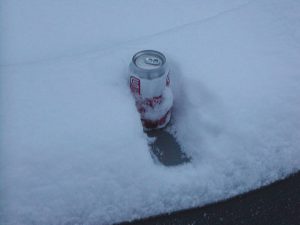 Greetings and welcome!
A quick check of the back step as the sun comes up shows about 3″ of new snow. A walk out to the snowmobiles shows that is could be as much as 4″. That might vary by area, Dan G ( of Riding With Dan & Dylan fame) reported about 1.5″ at Chute Pond in his comment this morning.
I haven't talked to Rapids yet this week, but I am expecting to be there bartending from noon to five or so.  I already have the camera battery on the charger, so if you are in the neighborhood stop by and get your picture taken and put on the net.
The freezing rain before the snow probably made for some challenging travel for people heading up to ride. The roads held the cold from the -25 weather last week and the rain was quick to stick. The ride home from work found glazed roads and no road crews in sight. I am not sure if that changed later of not. I would expect to see some people arriving this morning due to travel challenges last night.
On with the day!
RJB