Greetings and welcome!
6:30pm-
It was a fun day to be at Rapids Resort. It started off a little slow, but we ended up having some very nice groups stop in. Thank you to everyone that made the trip, it is very much appreciated.
Let's start with some pictures.. as always, click 'em to make them bigger..
One couple that I ran into last night I told to run the flowage up rather than take the thinner land trail and they followed my advice. Mike said that it was a little slippery with glare ice and 5″ of puff on top. and it sounded like steering was mostly a suggestion… That will change with warm temperatures ahead.
Another group that took the trail found it ungroomed and about as expected. Apparently one spot they encountered a big branch across the trail and stopped to clear the way.  As he is telling the story I am thinking to my self.. Ya know, that is what sets snowmobilers apart from other people. We stop and help. I know of places that have had a branch in the road for over a week that people drove around. On the snowmobile trail the first or second guy moved it.
From what I heard the radar run was well attended, and people were enjoying it. I haven't heard top speed numbers yet, but might find out later tonight.
I looked at the weather outlook and I think that I am going to wait until the models flip to the flop before I talk about it. The models are in chaos and most of it isn't swinging our way at the moment. As I told a visitor today, sometimes it works out very well for us when the models have a hard time getting a handle on the situation. I am going to cling to that thought because it is the best one that I have at the moment.
Thank you to everyone that came to visit today! Have a good Saturday night and thank you for visiting!
RJB
Overnight Update-
As mentioned, on the way to work I found a lot more snow than we have here at the house. I would call it a solid 4-5. It is light fluffy snow so the mid 20s today and upper 20s tomorrow will probably settle it into a lot less. I haven't seen what it looks like panned by a groomer yet, but my wild guess would be an inch or two of base.
Chris & both thought that I summed it up yesterday when I said If we hit the jackpot and got 5, we'd be up to 6-7″ of clipper snow since the big thaw. It is a start. Places that held base will be nice, places that melted all of the way down will probably be a little thin. I don't see it being enough to fill in rocky areas or trails like the railroad grade where it went down to gravel. There will be places to ride, but a lot of trails will be in early season condition.
It sure does look nice though..
The forecast is getting interesting. The large area of high pressure that helped to bring down the deep freeze last week is moving to the east. As it does, the back of the clockwise rotation is going to start moving much warmer air our way, along with small storms for Sunday afternoon and about Tuesday.
The various forecast models have been inconsistent on the handling of these storms. On one model run the Sunday storm is snow, the next it is rain. Right now the NWS is wisely going with a light snow and or freezing drizzle/rain. If you read through their forecast discussion they talk about how it is a very challenging forecast to make with little guidance from the models and a lot of dynamics in play.
Right now my answer is… I don't know.
Any snow we get will be a plus, and rain, if not too much, will help turn the puffy stuff into packing snow and make base. As long as the rain and warm temps don't get out of hand we will be moving ahead with any precip that comes.
I will be bartending at Rapids Resort from Noon until about 3 or 4 today. Stop in if you are in the area, I will have the camera along. When I have time between groups I will do some updating with their take on the trails.
There is a radar run and fishorama by Thorntons at Boat Landing 9 on Caldron Falls today. Rapids is at the upstream end of the lake at Landing 12, or there is a pretty direct land trail between the two. Once you get off of the river at Landing 12 go about 1/2 mile straight up the road and you are at Kosir's campground behind Rapids. Likewise, from Rapids, get on the river and keep gong to the big part of the lake and the radar run will be obvious.  If you don't want to take the ice, the land trail that goes right there is about 500′ past the boat landing 12.
Here is the first site visitor picture of the weekend, a couple that visited me at Curve Inn last night. Nice to see you!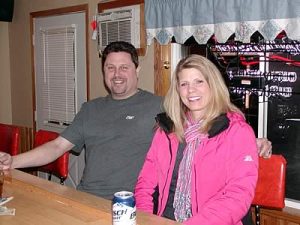 Have a good weekend and thank you for visiting!
RJB