Greetings and welcome!
4:30pm
It was in the upper 20s today but it felt a lot warmer when I was out clearing snow. The snow has settled a little and is very packy. There was a little mist falling as I was doing my chores mid-afternoon.
The snow has not bonded to the ice yet but it is getting there. Hopefully overnight it will set up to the ice when we get into the low 20s.
2pm
I see that Iron Snowshoe has opened trails and they are out grooming. Be aware that there will be a lot of ice under the snow. There will likely also be some wet low spots.
We have not had any more snow.
8:30 am
I went out and measured snow a few minutes ago. It was wet heavy snow. My lowest reading was 5″ and my highest was 6.5″. Most were in the 5.5-6″ range. It was raining slightly.
The main band of precip has passed but we could get just a little more snow. The TV says 1-2″ more but looking at the radar I'm skeptical.
The snowblowers will be grunting about the weight of this snow.
All of the area schools closed today.
This is what was on the camper steps. I am guessing after the fact that there may have been a little ice (1-2″) under that snow. Look at the crust on the bottom of the top step.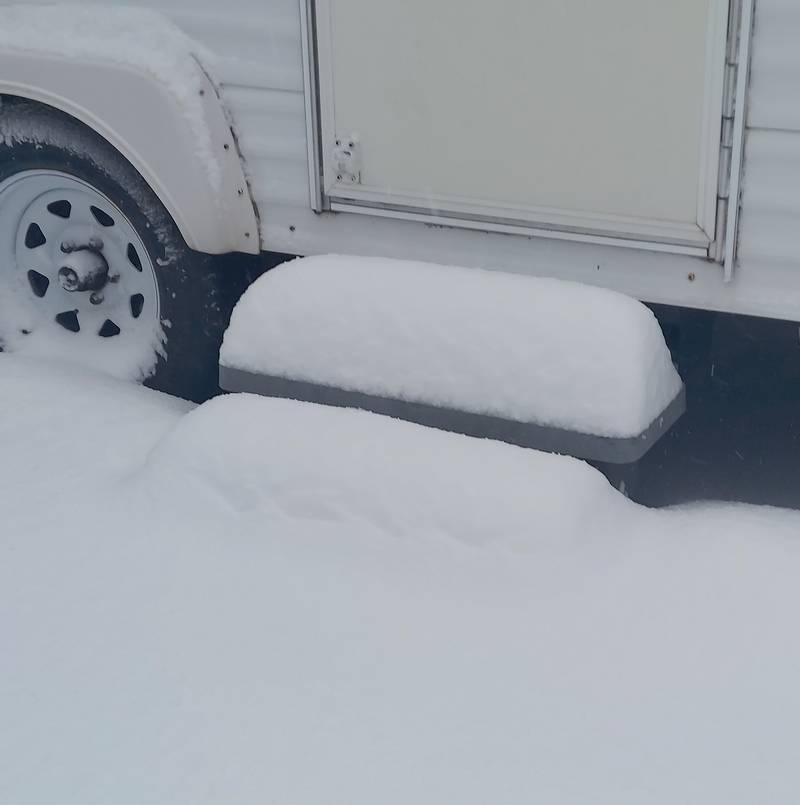 I will update after I go and snowblow later this morning.
RJB
6am
It started snowing at about 3am but it wasn't adding up very fast. That changed a lot between then and my 5:45am look out of the window. We have close to 3″ down and it is falling fast. Medium large flakes are coming hot 'n heavy. Looking good so far.
RJB