Stay off of the ice-Lake & Rivers are not ready yet!
Greetings and welcome!
Riders yesterday were pretty happy with conditions. The trails shaped up pretty well and all of the riders that I talked to thought that the trails were pretty good for early season conditions.
It was not as busy as I had expected, but I did see a fair number of groups out.
The forecast has not changed much. There are no big storms apparent, but we will have pretty normal weather with a hi/lo of about 25/10 for this week and weekend. There is a little light snow possible Monday and again Friday night into Saturday.
The high pressure responsible for the fair weather is blocking us from a couple of storms for the 27th and probably New Years. Those will be well south of where they would need to be to bless us.
As that high pressure area burps off to the east the GFS is showing a warming trend for the first week in January. The clockwise circulation of the high pressure area will pump warm air up from the south. That also enters the possibility of it pumping a storm our way. Hopefully it is worth the wait and the warm weather.
Later today I am going to be heading to Lakewood by truck to get supplies and fuel before the store hours get shortened for Christmas. I will be snapping some out the windows trail pix on the way.
This morning was taken up by catching up on snow plowing, snow blowing the wood yard and things like that. RXL #2 got pushed into the shop and service will start on that soon.  That and some trail time on the little sled are planned for tomorrow. Again I am planning on bringing the camera.
Speaking of the camera, a couple of groups of riders that came by the resort yesterday let me snap a picture. Thank you all for stopping at Rapids Resort! I will be there Saturdays when there are riders around, and I like going out to do pictures. Stop in when you are riding in the neighborhood and I will be glad to post your group too.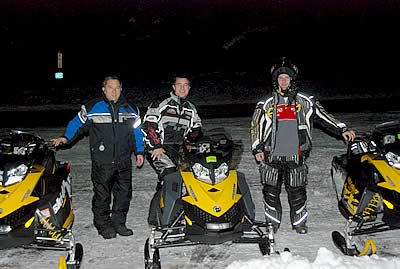 That is it for now. Have a good Sunday and thank you for visiting!
RJB