Greetings and welcome!
5PM
We are under a winter weather advisory for tonight into tomorrow. We are expecting a 2-4″ snow with a chance of some freezing drizzle or freezing rain mixing in. There is another 3-4+ likely for Tuesday and Tuesday night.
The New Years Day storm is the subject of my focus at the moment. The latest model run that I have is showing the storm a little farther north. According to the European model it will mostly spare Chicago and move the heavier snow up toward Milwaukee. It is not all that impressive on snowfall, looking for about 4″.
The GFS is an older forecast model and sometimes it is a little generous with the precipitation. I frequently like what it says, but that is tempered with the knowledge that it can be a little generous on big storms.
The current GFS run has the heaviest snow around Green Bay and points west.
Here is the GFS snow total up to new Years Day.. We are in for 7-8″. Sounds good.
And here is the snow totals after New Years Day. Check out the area just a little west of Green Bay…17-20″ this week? Yowza yowza yowza. It still has us in for 10-12″ for the week. Sounds good.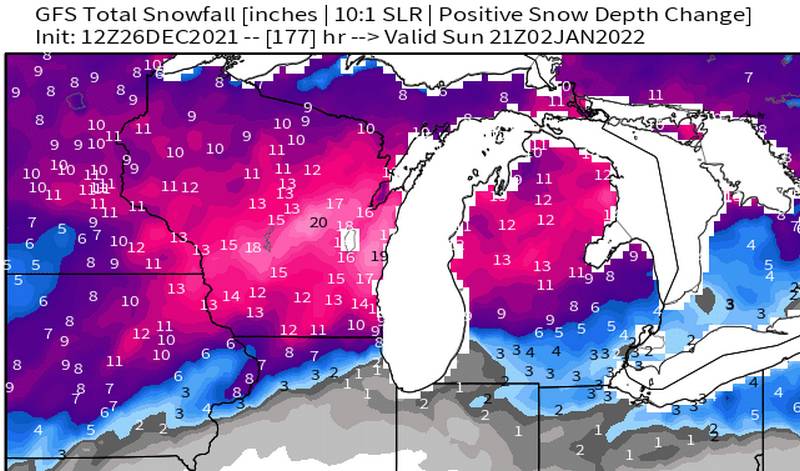 It is not a big reach to hope that the heavier snow makes it another 100 miles north and into our region.
The really good news is that all of the other forecast models are all on board with at least 6″ before New Years Day, and some go up to 9-11″. Sounds good. If the NYE storm only brings a couple of extra inches, so be it. If it brings more yipee!
For right now I am looking for 4+ out of it and possibly more. It could easily go south and hit central Illinois in the next 4 days. Right now the glass is half full.
The forecast models that I use on a day like today are the GFS, NAM, ICON, GEM, ECMWF (European), EPS, RGEM, and the NWS NDFD. I can show you the GFS because that is a free one. The rest I pay for and they get excited if I use their images without licensing for that.
At any rate, things are looking very promising this week and beyond.
Have a good night and thank you for visiting!
RJB
Overnight Update
I hope everyone had a good Christmas holiday.
The weather Friday was not nice for travelers. There was thick fog, freezing drizzle, and freezing fog. The temp in the afternoon was right at freezing and it glazed up the already cold roads with ice. I had some out of town friends coming for Christmas eve and I called them and said no way. The road in the picture is mostly iced over. There is a little fog too. The digital camera filters a lot of it out thinking that it is noise. Driving in it was worse than the picture shows.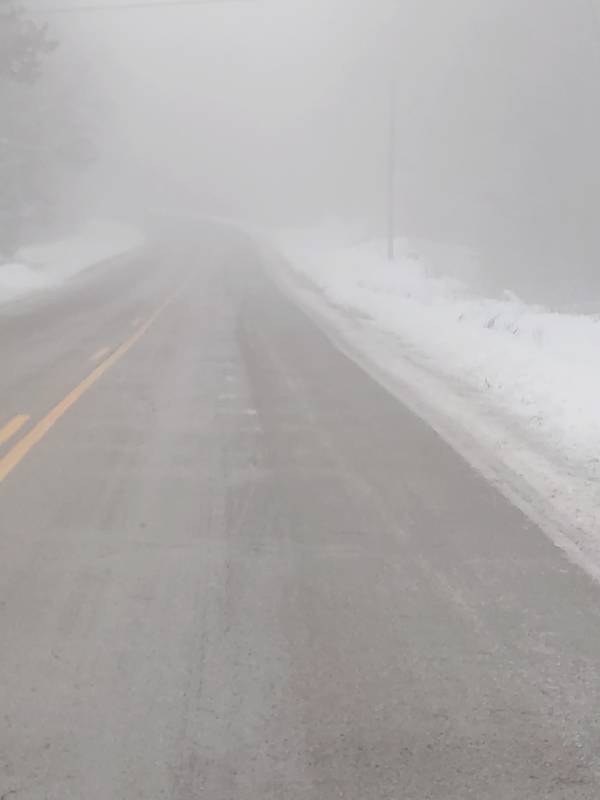 We only got up to about 35 Friday and the rain was mostly light or drizzle so we did not lose much for snow cover. If anything it helped consolidate the snow and base and then freeze it hard when it cooled off.
On my short drive around the neighborhood the trails that I saw were not perfect but you could definitely ride. Plowed roads and driveways are still thin in places, there will be thin spots here and there, maybe some wet or icy spots, but a lot of places have a nice little base started.
We are going to move forward on that in a big way this week. There is a small storm for Sunday night into Monday that could bring 3-4″ and a bigger storm for about Wednesday that could bring 4 or 5″.  Nine inches of snow by Wednesday would be nice.
I saw one model run that showed a bigger storm for New Year's Day and Jan 2nd. Other models have the storm going south and giving Milwaukee & Chicago the heavier snow. We will keep an eye on that one.
At any rate you can ride now with some early season stuff, and I expect conditions to improve this week with a couple of snow storms ahead and continued work by club volunteers.
Have a good Sunday and thank you for visiting!
RJB