Greetings and welcome!
Well it wasn't a perfect first weekend but a lot of people got to get out and ride so it wasn't all bad.
My apologies to Jim and his group and to the other group that I missed Saturday. Saturday was a wild day with really a lot coming at me. I never did get out for a ride.
Saturday got a little too warm for my tastes. Athelstane Weather peaked at about 35, but the thermometer at Rapids and the one in Chris' car peaked at 40. Between the warm weather, moderate traffic, and just good enough trails, conditions deteriorated in places. There were some thin spots, rough spots, and some snirt, but there were good trails too. People took it in stride, it is part of early season riding. Most years we can't even ride yet.
There were a lot of people out and the trails got a little rough from the traffic. A little after sunset I was on 32 north of Townsend and could see the riders' headlights frantically bobbing as they did the paint shaker over the whoopties. Warm weather + traffic= whoopties, another reason I wasn't happy about the warm day.
Normally I'd be thrilled, it was the second day over 25 since mid-November. Now this week we are back to single digit high temps, negative teens or twenties for lows, and some wind to take the wind chills into the -20 to -30 range. A high of 40 or a high of 3.. it would be nice to get a few days in between the extremes once. Thursday we could hit 11, and by the weekend we will be back into the 20s.
I did manage a few riders pictures from my visit to Rapids later in the evening..
I was up early today to try to beat the cold spell, and I got some work done in the blue room. I pulled the 500 in and gave it a once over, and it got some new carbides and a high windshield. It is a first pull runner and it is sitting outside with a full tank of no E premium, a full tank of oil, and a stocked emergency kit.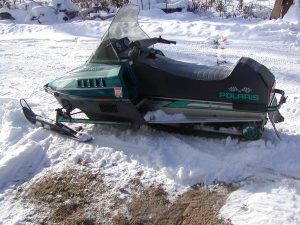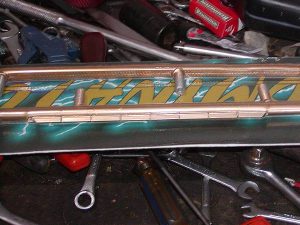 Once I thaw out a little from my morning I am headed out for a short ride. The first 20 or 30 miles will be mostly on road trails so that if something pops up I can just pull up with a trailer and retrieve it. Once I trust it a little more I will do some cross country trails too.  It is a standard routine around here. I am probably missing out on some getting stranded in the woods adventures, but that is ok. BTDT.
Yesterday in my travels I picked up a couple of maps and will work on posting those later this week when I am hiding from the cold. I also have some info on the Bear Point Sno-Cruiser's poker run that will be getting posted too.
Last night Ron was showing me a pretty cool phone app called Polaris Trails. It is like a trail map crossed with a GPS, weather info,  gas stops, distances, and trail stops, all zoomable on the phone. When I get a better phone I will definitely be getting that. Check it out. They have a desktop version too.
Well I am off to throw in a few days worth of firewood and then I am going to saddle up for a quick ride before the game. Have a good Sunday and thank you for visiting!
RJB