Greetings and welcome!
7:23pm
I just went out and measured a solid 8″. A few locals reported up to 9″. There is a little wind but nothing crazy. It is still snowing lightly. The next question is if the back of the storm will bring more.
2:30pm
I measured about 6.5 out in the driveway. It is still falling, but it is very fine snow. My thought is that it is adding more density than depth.
1:30pm
I just measured a little over 6″ right off of the back step. Looking around it looks like more. The stuff is still falling at a respectable pace, though it is very fine snow. I will get a closer look after I chase the snowblower around a little.
10:30am
I just went out and measured a solid 5″ down.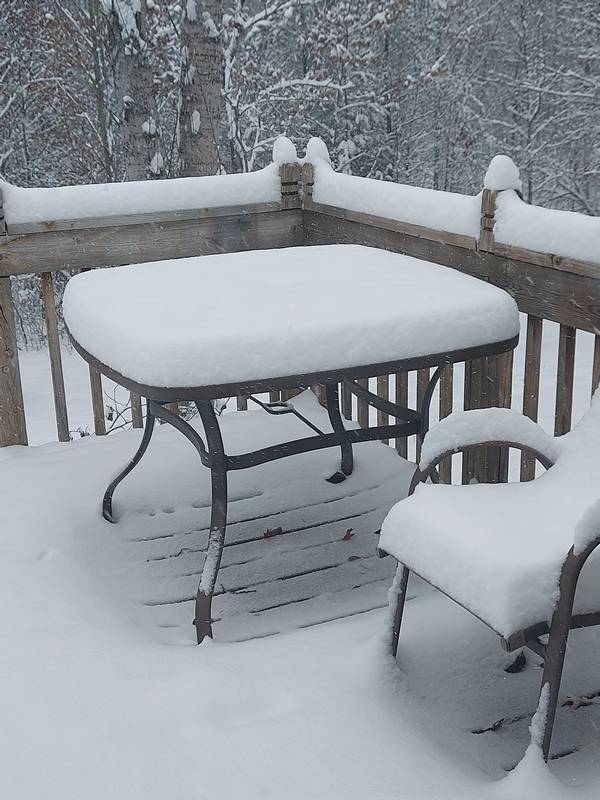 7am
The sun will be coming up soon and it is snowing lightly. It has been snowing on radar for a couple of hours now but it only started snowing here on the ground a little while ago, We have maybe 1/4″ down.
The forecast was significantly upgraded in the overnight hours. We were under a winter weather advisory with an expected 5″ or so being predicted. Now we are under a winter storm WARNING with as much as 8″ possible according to the NWS. The warnings are for north of Hwy 64, so Oconto &  Marinette Counties are warned, along with points north and west.
The storm is expected to strengthen while it is over us, and we are expecting wind gusts up to 30mph tonight and almost 40mph tomorrow. The snow on the back of the storm will be powdery, and that should make for some pretty significant blowing and drifting.
I checked the forecast for up by Hurley/Ironwood where they get a little more lake effect snow. They are looking at 3-5 today, 3-5 tonight, and 3-5 Monday for a total of 9-15″.
At any rate the snow has started and it is starting to pick up in intensity. If people need snowblower gas or supplies they might want to get on that soon.
More to follow..
RJB