Greetings and welcome!
It was a huge weekend on the trails around here. There were a lot of events, the trails were nice, and the weather was reasonable. Between that and the end of the season looming large, people were out on the trails in force on Saturday.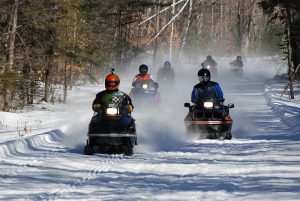 A friend and I headed down to Crooked Lake to catch the vintage ride and do some pictures. I found a spot a few miles east of Crooked Lake and snapped away. There is a new page for those pictures because there ended up being 101 in the gallery. That would make the page load a little slow if I put them on the front page.
There were some great old sleds, and of course nice people too. We followed the ride into Crooked Lake and hung out at The Pines for a while to socialize.
The plan was for us to take in the vintage ride for a few hours and zoom back in time to make Slug Feast. That ended up not working out when we took a different way back than usual. Once it was obvious that I had blown the timing we enjoyed some of the trails and forest roads between here and Lakewood and Mountain.
There was some traffic but everyone seemed pretty sane about it. I didn't have any surprises in corners or anything like that. The trails were very nice and we had some A-1 forest road riding too. There were a few bumps, but considering the traffic the riding was great.
The weather worked out good. It was cold enough that there weren't whoopties building, but it was warm enough to be comfortable.
About the worst of my ride was the couple of miles of plowed paved roads between here and the trail. On the way back it was pretty bare.
We still have some snow coming Tuesday. The storm looks weaker than in previous model runs, but is on track for at least a 3-5″ snow, possibly more. A couple of cold days behind the storm should get us to the weekend with good trails.
From the 7th to Friday the 13th looks ok, but that Friday and the weekend look like they will be above 40 and possibly have some rain. That is two weeks away and could change, but I am planning on riding like the end is near.
I will be at Rapids this Saturday, and that will be the last Saturday of the season. They are closing down for a few weeks in March, a break before the whitewater rafting season starts the first weekend in April. I am usually there from about noon until 4. sometimes later if they are busy. Stop by and get your picture on the BSP.
Speaking of the Rapids, here are a few pictures from Saturday night.
Have a good week and thank you for visiting!
RJB