Greetings and welcome!
It was quite a storm indeed. There were even severe weather warnings down south. The rain at the back of the storm was pretty heavy.
Looking out of the garage door I am seeing about 1/4″ of ice where the cement was bare and a brick of ice where there was hard packed snow. It is just over freezing (33) and has been that way all night.
We lost a lot of snow depth based on a look at the yard and especially the roofs. I don't know what happened to the trails yet, but I have a feeling that the rain and ice brickified (wow made a new word!) them into a rock hard ice base. Unless they melt off, road trails will be much improved.
There will likely be some flooded spots too, my guess on rainfall with the storm is about 0.75″. With nothing soaking into the soil it either needs to soak into the snow or run off.
The side roads are crazy slippery with ice. Main roads that got salt will be a lot better, salt is very effective in the 30 degree range.
At the moment I haven't been out yet, waiting for the roads to get a little salt and sand. Here are a couple of pix from out of my garage door.
1/4″ of ice on the bare cement..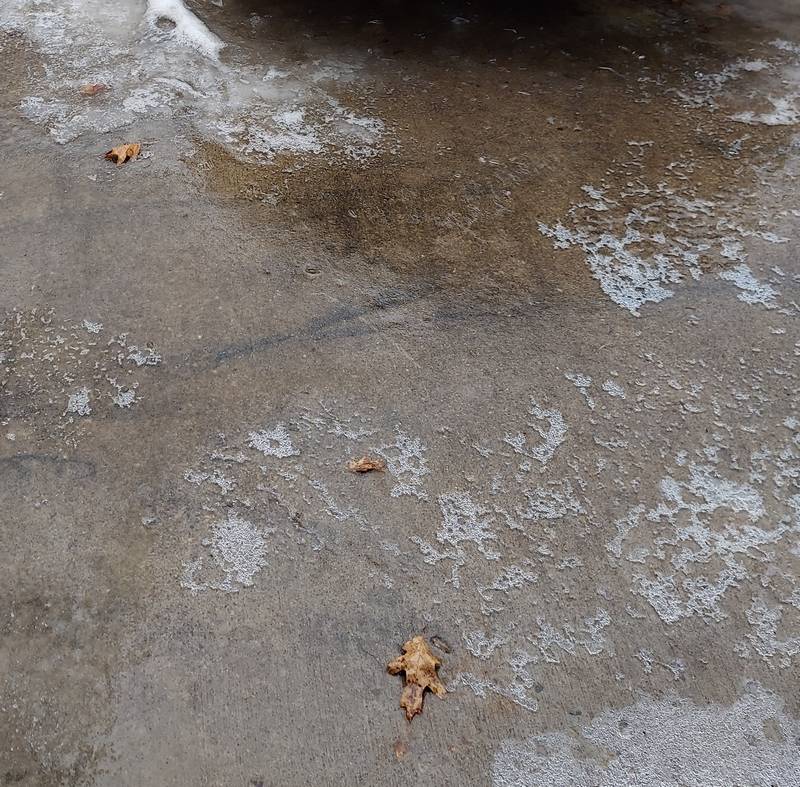 And on a much less serious note.. the reason that I haven't gone out driving yet.
At the moment my guess is that the big ice base from the rain soaking into the trails isn't going anywhere. The Euro forecast model shows a chance of 4-5″ on Thursday night. Is there a chance of another weekend? There certainly could be. There is a lot of if/then/maybe in between here and there but the chance is there. I will update once I get out and get a little better look around.
Have a good Sunday and thank you for visiting!
RJB