Greetings and welcome!
11:45pm
It looks like we are just about done. My official total here is 4.5″.
9:52pm
We are up to about 4″ so far. I walked out to the shed to get a tape measure and measured 3-4″ in various spots.
4:30pm
I took a couple of pictures right before dark. I'd call it an inch to an inch and a half.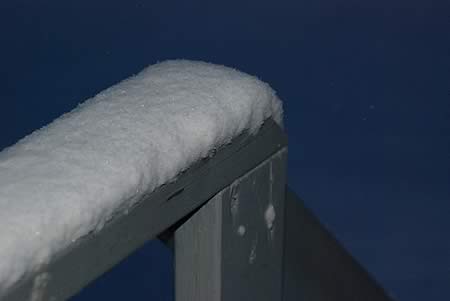 4pm
We are up to about an inch so far. The snow has been light but steady.
The latest out of the NWS is for 2″ today and another two tonight.
My guess is that the storm went a little south of what was expected. The snow belt in north central WI was expecting 6-9, and so far they are getting skunked. Hopefully the storm pivots north a little and the back of it is kinder to us than the front has been.
1:30pm
We are under a winter weather advisory right now. The NWS is expecting about 3″ today and about 2 more tonight. We are off to a slow start. It started snowing a little after 11, and as of 1:30 we are up to about 1/4″. Hopefully things turn around soon.
RJB