Greetings and welcome!
The GFS forecast model remains stubborn in its prediction that the snow will be minimal and mostly south of Hwy 64. The rest of my guidance, the TV, and the NWS all think that we could see 4-6″ tonight and Monday.
The NWS has a winter weather advisory out for about the eastern 1/3 of WI. The exception here is Door Co and a couple of counties right along Lake Michigan, where they have winter storm warnings and expect lake effect augmentation to up the totals to 6-8″. Otherwise the advisory area is expecting 4-6. The NWS forecast for Silver Cliff is for 2″ tonight and 3″ tomorrow. It is expected to be a slow steady snow falling for over 24 hours.
The rain last week fortified any base that was left, so this snow will be the frosting on the cake. If it happens as predicted I would expect pretty nice conditions and the masses will take to the trails next weekend.
Last night was a pretty brisk one. I know the wood burner sure was hungry, and when I overslept a feeding the house got cold fast. I checked in with Athelstane Weather and they showed a low of -20.2ºF. That is about cold enough.
Looking ahead at this week I don't see any more of that. The TV weather shows highs in the low 20s early week, a high of 15 Wednesday. Thursday they are showing a high of 29, and mid-30s for Friday and Saturday. The coldest low is Tuesday night with a low of 3. Keep in mind that is the Green Bay forecast. You can probably shave of an easy 5 degrees for Silver Cliff since we are 80 miles northwest of there and about 600′ higher in elevation.
IF
Wow that is a big IF.. If it all works our to this ideal scenario in front of me I might be a celeb guest bartender at Rapids Resort next Saturday 12-5 pm. I will advise later in the week once things come together and I talk to them and so on. First it has to snow.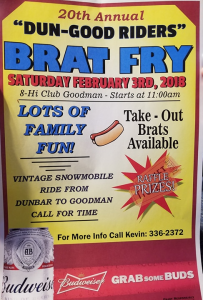 Here is another event poster. I am going to try to figure out a way to have those displayed all in one place without slowing down the server too much.
One last item that I keep forgetting.. I spotted a fisher when I was driving through the woods the other night. He was in the road and I stopped to let him find his way. I got a nice long look at him so there is no question on my identification. While we are in their traditional range, their current range is still a couple of hours drive to our north and west, so it was a treat to see him.
These are some very cool critters take a look at the info on them.
Time to go outside and get ready for the snow. Have a good Sunday and thank you for visiting!
RJB