Greetings and welcome!
Well it looks like the big storm is finally here. There were a few snow specks falling earlier, but now it is more of a mist.
The storm is not looking like a winner for us. The models have the low tracking up the west side of Lake Michigan, putting us in the rain side of the storm for a lot of it. Hopefully it brings a snowy finish.
In the meantime the 30ish temps and the mist are expected to cause some travel problems. The warm moist air overrunning the cold ground and snow is expected to make a nice thick fog. Additionally the cold roads that aren't salted could pick up an ice glaze. When I was out about 1pm it wasn't a problem, the county road still had salt on it from the light snow the other night. Between the salt and the 31 degree temp the road was just wet. Unsalted side roads could pick up that glaze later as more precip comes.
Saturday morning started out on the cold side. Green Bay had -6, Rhinelander had -16. I'd guess us for about -10. The day warmed quickly and by afternoon we were into the mid and upper teens.
I made it to the High Falls Radar Run by early afternoon. They were running an 800′ track and had a lot of trophies for the different classes. The Iron Snowshoe Club was out on the ice with a brat and burger stand. They are early starters, but there were still a lot of people there and a few sleds still running.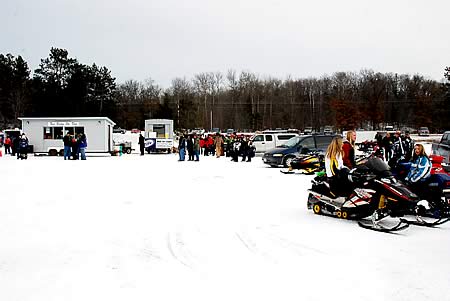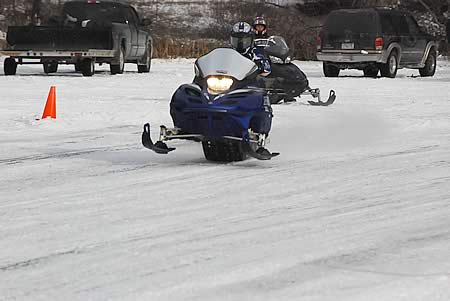 I noticed this week that the gates on the Iron Snowshoe system have been getting opened. There is still only 1-3″ on the ground, and I have not gotten word that the system officially opened,  but at least the gates are open.  I just saw on their Facebook Page that they decided to move forward with the bunny hunt treasure hunt and were out hanging posters in the bars this week with the first clues on them.
If it weren't for the storm we would probably be able to see some northern lights tonight. There was a pretty good solar flare and coronal mass ejection that headed right for earth, and it should be here Sunday-Monday. According to this page, they could possibly be visible as far south as southern IL.
That is the Sunday update. Have a good night and thank you for visiting!
RJB