Greetings and welcome!
It is a snowy morning this morning. Light snow is falling off and on, and it is adding up a little. The front step shows about an inch since late afternoon yesterday and about two total for the weekend. It is still -1 outside, but that could go up to +10 by afternoon.
Yesterday was an unsettled day. It started out with the day's high of almost 22 at 1am, and then dropped to upper single digits for the day. There was off and on snow, and sometimes the wind blew it sideways. Sometimes it seemed pretty nice out, and a minute later a squall would come in and it would be snowing and blowing. After sunset temperatures dropped to about -12.
The week ahead doesn't look like much fun. Monday and Tuesday we could have a high temperature of -5, and plenty of wind. Wind chill predictions are in the -30 to -45 degree range. Temperatures are expected to moderate as the week progresses, and we could see upper teens later in the week and for the weekend.
All of this cold weather has a propane shortage going on. Supplies in the upper Midwest are very tight and some local suppliers are either out of gas or only doing partial fills until the supply rebounds.There are people that are out of gas or very close with no obvious relief in the short term.
Folks with heated seasonal cabins will want to keep an eye on their supply. We have used way more than a normal winter, and seasonal cabins are behind locals on the list for delivery. If your supply was close you will want to check on your place or with your supplier.
If you can find a supplier, it is probably good that they are doing short fills. I looked up the spot market prices from the big distribution center in Conway, Ks that supplies most of the region's LP and found some big price spikes last week. Pre-winter prices were about 1.09 a gallon. Tight supplies moved that up to about $1.48 the past few weeks. Thursday the spot price jumped from $1.71 to 4.95.  Ouch, and you still have to transport, distribute and deliver it.
This too will pass, but for right now it is getting a little rough for some people.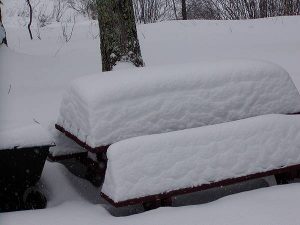 There is a little firewood shortage going on in my wood shed too. I am about a month ahead of where I should be right now. There is no question that I will be out cutting more by March. The good news is that I still have a couple of cords here under tarps, but not cut up. The bad news is that it, and the wood yard, are under the same amount of snow as is on the picnic table.
I haven't been doing much riding lately and I am not very happy about it. Between the sub-zero temperatures after work and a really full schedule it just hasn't happened. My mission today is to get out onto the trail and get some miles in. While I am waiting for the day to warm up I am heading to town for fuel and supplies, and after bringing in some firewood it will be time to saddle up.
There were not a lot of riders out yesterday, and all reports had the trails in great shape. In my travels last week I saw a lot of really nice trails from Crivitz to Carter. There were some spots where open areas had built up some pretty big snow drifts too.  It is looking really nice out there, especially with a few fresh inches and some snow flocking the trees.
I ran into these guys at Rapids yesterday afternoon. Great to see you!
That's it for me this morning. I am off to get my stuff done so that I can get some trail time in. Have a good Sunday and thank you for visiting!
RJB