Greetings and welcome!
Hey I got the year right!
I keep looking at my weather maps and models and I do not see any storms that will get us onto the trails in the short term. The 10 day European model has us for about an inch of snow over the next 10 days. The 16 day GFS is not much more optimistic.
There is more unsettled weather at about two weeks out though.  I have done this for a lot of El Nino and LaNina years and there is always hope two weeks away.  (Lucy: Kick the ball Charlie Brown..) I do believe that there is change coming though. No weather pattern lasts forever.
There is some wild weather going on in other parts of the world. Up in the Aleutian Islands of Alaska (Think TV show Deadliest Catch) They had the most powerful non-typhoon storm to come through since 1977. They called it a bomb cyclone ( I hate that term) because of how fast that it intensified. The article says that it had 109mph winds and 58 foot seas. Six story waves? Yowza.
At the same time I saw an article about how some places in China were -50F over New Years. Propane freezes at -44F. That could be pretty challenging when you need a heater on your LP tank to run the heater. They can have it.
Here in Northeastern Wisconsin we have freezing fog advisories and special weather statements out. As warm air overruns the snow we are expecting dense fog. Having that happen at 17 degrees will make roads black ice and put a frost on everything else. After that the NWS forecats is for mid-30s for highs and about 20 for lows for the next week. There are only minor chances for snow flurries or light snow today and Monday.
Right now I have about 4-5″ in the yard. The sheltered areas of the driveway might be up to 5 or 6. All trails remain closed except for winter ATV trails in northern Marinette Co.
Most ice reports on FaceBook are at about 6-10″. People were taking snowmobiles and ATVs out onto Caldron and High Falls Saturday. There are a lot of places that I wouldn't trust out there yet. Personally I will wait for 12-16.
Here are a couple of events coming up.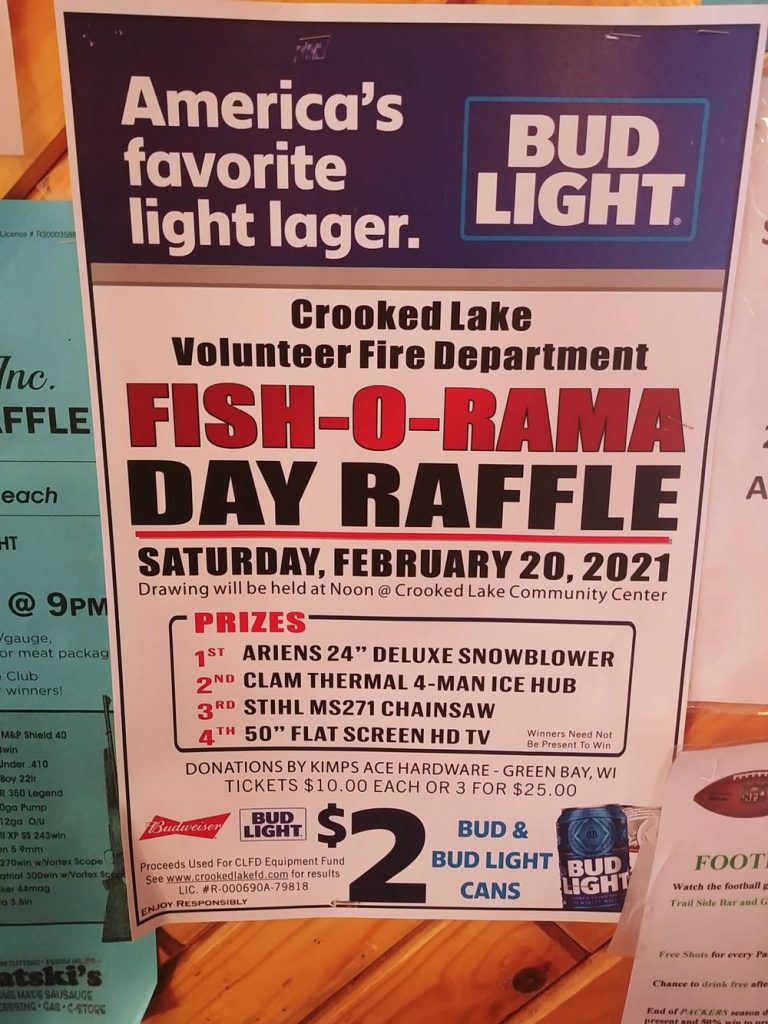 January 16, 2021 Annual Red Arrow Bonfire in the woods at Intersection #641 east of Townsend from 11-3. Join us for hot chocolate, hot coffee and other trail side goodies. Hope to see you there! Looking for volunteers to help make this event happen.
February 20, 2021 46th Annual Fish A Ree Fundraiser. This event has been cancelled due to the Covid-19 virus. There will be a raffle ticket for the winter months, with a drawing date to be announced.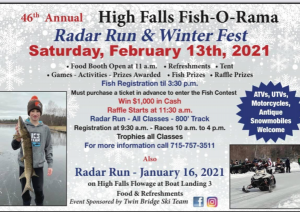 I will be adding a lot more to the event list as I see more ads & posters.
That is about it for tonight. Have a good week and thank you for visiting!
RJB