10:30pm Sunday night
Greetings and welcome!
Remember how I said It is shown reaching 992mb for central pressure, a moderately strong storm. If it had more moisture to work with it could be a good one.
Well here we are. The latest model runs show a lot of moisture coming with the storm. The TV says a general 4-8 across northern WI, with up to 12 possible near the UP. Lakewood is shown at 8.1″
The QPF on this storm shows 1.0-1.5″ of rainfall equivalent on the North American model
and 1.5-2.0″ of rainfall equivalent on the GFS model.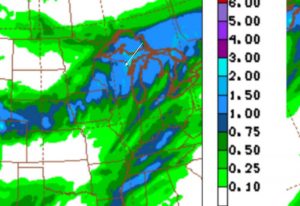 If we go conservative and say that we have 1.0″ of rainfall equivalent, deduct 1/3 for rain and go at a 10″ per inch of rain we are still looking at 6-7″.That is the low end number.
The timing changed a little too. Now it looks like a Tuesday night Wednesday storm.
I'm going to take it seriously with my snow preparations but I know that it could easily miss us or be a lot less. A lot could change in two days. At the moment everything in front of me says that we are in for a pretty good storm with strong winds and a pretty good dose of snow.
There is another storm on tap for late week that could be another one to watch.
If you are looking for a Thanksgiving buffet Rapids Resort has one for $9.99. Hilltop has their Thanksgiving buffet, and other choices include Jungle Jim's and Nimrod.
Have a good week and thank you for visiting!
RJB