Winter Storm Warning
Greetings and welcome!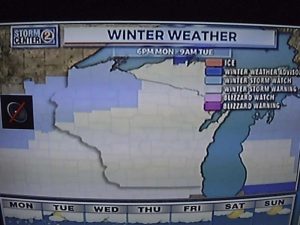 We are under a winter storm warning tonight, as is much of the state. Here is a link to the NWS warning bulletin.
They are warning of 5-9″ of snow and strong east winds to blow it around.
I am not sure if this is first storm excitement getting carried away, or if we are really expecting a good dumping. Looking at the forecast models we are looking at a decent sized storm with Gulf of Mexico moisture support.
The 5-9 looks realistic.
The unimpressive central pressure of the storm and the fact that it has been well advertised for at least a week are both reasons to be a little skeptical. It has happened where a big storm like this gets folks all excited and ends in disappointment.  Right now I am cautiously optimistic.
The TV weather channel is on TV at my house more than the other channels combined. I like seeing the live radar and the rotating area temperatures, and it has a better plot than half of the TV shows on other channels..
They also have something called Pinpoint Predictor, their simulation of future temperatures and precip. Tonight I captured this image when I was charging my dash cam. When I saw it come up on the TV I quick snapped a picture with the closest camera that I had.. Wouldn't this be something!?!
Fourteen inches of medium wet snow would pack down into a dandy start on a base! Will it happen? I am pretty skeptical.. 5-8 is believable. Fourteen inches in Lakewood is probably a little optimistic.
The models are not perfect and sometimes they get into a loop and get a little carried away. That might be the case here, but wouldn't it be something?
The ground has frozen a little in the past few days. We only got up to about 30 today and it is 19 here in Silver Cliff at 9pm. Wabeno has 13, and Shawano is down to 9. The ground is definitely frozen, but how deep I don't know. It isn't much yet. We have more cold temps coming late week and into next weekend.
I got a Christmas present that I wasn't expecting this year.When I tried to leave Friday morning I found this.
It was standing dead for a few years and was rotted off of the roots. The high winds and soggy ground last week must have loosened it. It was a double trunk oak, and they are each about 24″ at the stump.
It might have delayed my day and changed the plans for the weekend, but having a month or two of dry oak fall 100 yards from my wood shed on a 30 degree day is ok by me.
***************
We are clearly moving in the right direction. Cold tonight, snow tomorrow, winter storm warning.I believe in the 5-9″, and I like the 14. Only time will tell.
Have a good week and thank you for visiting!
RJB