Greetings and welcome!
The Saturday night-Sunday snow brought very nice conditions for Sunday riders. If you want to ride trails in really great shape you will want to do it Monday.
The Saturday night/Sunday storm started out as rain and a mix. It changed over early Sunday morning and gave us a solid 3+ inches of pretty heavy snow. When I looked out the window at about 4am Sunday it was falling fast as half dollar sized flakes. The end result was about 3/8″ of icy slush on the bottom of 3″ of pretty wet snow.
When I was getting firewood Sunday afternoon the new snow and wet base was a blessing. It bonded to the ice underneath and gave me a little traction. I could see water in the bottom of some of my footprints.
The driveway was a different story. I was the first one down it and the snow had not bonded, and was water on ice. Even with my mega-snow tires it was very slippery as I tried to dig through the heavy snow. Once packed down it had good traction again.
The point here is that the first couple of riders probably had some slippery trails, but the riders behind them hit the jackpot. One friend said that they were the best trails all year. The icy bottom and heavy snow even helped road trails significantly.
I would be neglectful if I didn't mention Sunday's wind. It was very windy all day so we had some drifting near open fields. I actually saw a swirling snow mini snow-nado in one field where the wind hit it just right. It was probably only 50′ high and 100′ across but it was still a sight.
As far as the ride it Monday or else part.. The NWS has us for sunny and 42 tomorrow, sunny and 46 Tuesday and sunny and 42 Wednesday. It will cloud up Thursday, but the lowest high temperature between now and next Sunday is 37. Ouch.
There is a storm showing up in the models for Thursday, but all of my guidance shows it hitting southern WI and northern IL, and little north of Green Bay. Forecasts change, and this one could use some..
There are storms showing up for the next two Mondays. They aren't perfect, but they are a shot. There is a real beast of a storm showing up on the 14th on the GFS.
Several groups at Rapids Resort recently were discussing how we haven't had a good strong storm yet this year. You know, one of those double low pressure, tons of moisture and energy 12-18″ of snow plus drifting type storms. It isn't July yet, so it could happen. The storm 16 days out kinda looked like one of those. That far out in the forecast it is just a nice cartoon, but I like what it says.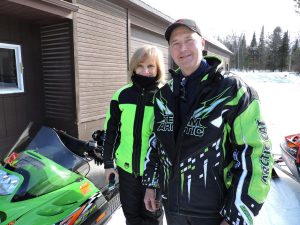 Before I go I want to thank everyone that came to visit the Rapids Resort this winter. You guys made quite an impression the new owners and I really want to thank you for that.
I am not sure if last Saturday was my last Saturday bartending there or not. I only work when the snowmobilers are around, and the future is not very bright for next weekend.
At that point I want to thank everyone that came to visit, got their picture taken, slipped me some $$, and had good times. You guys totally made my winter. Thank you.
At any rate you might want to ride tomorrow. Lets close the sale on that sick day. The pictures below are from late Sunday afternoon near Waubee and Prospect Lodges near Lakewood.
Have a good Monday and thank you for visiting!
RJB