Greetings and welcome!
We had our first ground covering snow last week. We had a big rain storm Wednesday, and Wednesday night and Thursday morning the back of the storm brought snow.
There were snow pictures on the morning news that people had sent in from Lakewood and Forest County. Lakewood had covered grass and maybe an inch, the Forest County shot showed close to 2″ on the person's deck railing.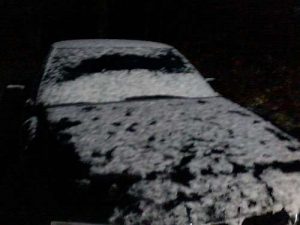 Here at C&F in Silver Cliff I had a little on the grill lid and on the car, but not much on the grass. Someone from over by Old J said that they had a pretty good snow on the ground.
On my way to work there wasn't a lot right here or in Wausaukee, but in the middle Athelstane had the ground covered and some snow in the trees making it pretty.
None of it lasted very long once the sun came out.
The other item today is site related.
Someone commented that the Big Snow Page was coming up as a malicious site in Bit Defender. This fall the site got compromised and infected with malware, and it was addressed. I have in place some pretty serious security measures, so rest assured that it is  is now clean and quite secure. Right now it is a function of a few companies catching up and updating their results.
Time to go cut some firewood. Be back soon, Have a good weekend and thank you for visiting!
RJB