Greetings and welcome!
11:30pm
It has snowed off and on since my last update.
The wind has kicked up and caused a lot of drifting, but so far no really strong gusts have hit. It probably isn't much fun driving when some of the snow clouds cross the road. The dog yard is drifted in and the deck is almost knee deep from the snow blowing off of the roof.
The snowblower might get a good workout tomorrow. I'm not looking forward to the -15 to -25 wind chills and howling wind blowing the opposite way of where I put the snow.
The wind is expected to pick up tomorrow.
6pm
It has been snowing lightly since about 4pm Wednesday afternoon. It is super fine powdery snow. I went out at 6pm and measured about 4″.
The radar suggest that the snow is just about over. What we haven't seen yet are the high winds.The NWS still has the wind kicking up and causing blowing and drifting from tonight into Saturday night. Tonight they are predicting winds of 11-20mph gusting to 43. Tomorrow they are expecting 21-23mph winds gusting to 45. Saturday and Saturday night they are calling for only slightly less wind.
The temperature tonight should go down to about zero, and  Friday's high temperature is predicted to be about +12. The wind chill is expected to be in the -10 to -20ºF range both tonight and Friday.
So far there hasn't been too much for high winds. It seems like a pretty benign storm. Once the winds start howling that will likely change.
My concern at the moment is that the trees are very heavily flocked with snow. These trees are not going to be happy little trees if 40+mph winds start swinging them around.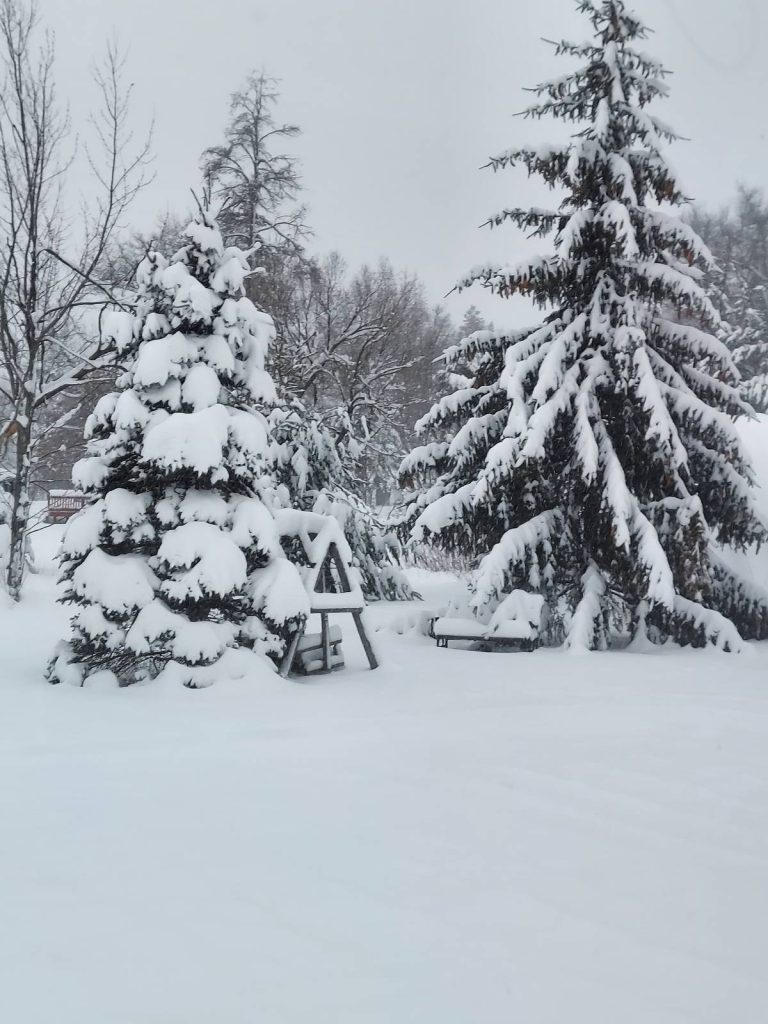 Between the 4″ today, the 2″ behind the last big storm and close to 5″ from the sloppy storm we are getting close to a foot of snow on the ground.
For now we are waiting for the big winds.
Have a good night and thank you for visiting!
RJB