Greetings and welcome!
It felt a lot more like December today. We had a stiff wind and a high of only 33 degrees. Right now at 11pm it is a lovely 21 degrees, and we had a little dusting of snow after sunset.
We won't stay at normal temperatures for long. It looks like mid-30s will return Sunday and continue into next week. With lows in the 20s and short days we should continue to freeze up.
The ground and waters are ready to freeze. It was firming up already tonight, and when I dumped the water out of the wood cart it had about 1/2″ of ice on it. I just checked the Peshtigo River temperature and it is down to 33 degrees, almost cold enough to start making ice.
From what I see on the GFS forecast model we should make some progress toward getting everything frozen up before we get any heavy snows.
There is a chance of light snow early next week, and for light snow again for Christmas and Christmas eve. There is a big storm possible for New Years Eve. (Remember those? We had some big ones when I was a kid..)
The trail pass for the Indy Trail came in the mail today. Looking back in the archives, I see that I applied for it on the AWSC site on the 10th, and saw it in my mailbox on the 17th. That isn't too bad of a turnaround time.
As long as we are doing some pictures here are some event posters that I saw at the Lakewood grocery store last weekend.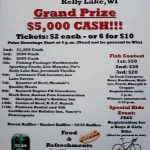 Prospects are pretty grim for riding the Christmas to New Years stretch this year, even in the UP. If you find a place to ride reasonably close feel free to share, your fellow riders will appreciate it.
Here is a regional snow cover map from the NWS today.
That's news for tonight. Have a good weekend and thank you for visiting!
RJB