Greetings and welcome!
A look around going too and from work found that the trails along the road clearly benefited from the snow. It groomed down nicely on Iron Snowshoe, and covered most of the thin stuff near Wausaukee. It will also help road trails. The side roads that I take to work were quite icy today.
It was a chilly enough day, especially with the wind, but we did see a high of 14. Later in the day the wind died down and it didn't seem too bad.
Friday is expected to be a little warmer with a high of about 20 and a little less wind. There is a chance of snow Friday afternoon and evening, but it doesn't look like more than an inch or maybe two.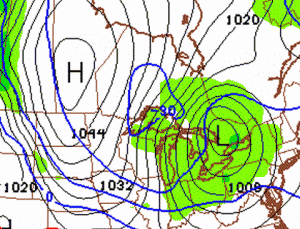 The snow might not be impressive, but the cold wave behind it is. This is a crop of the GFS For Saturday at 9am.
The blue outlines are upper air temperatures a few thousand feet up. The -30C area touching  the western UP translates to -22ºF air. It won't be that cold at the surface, but it will be cold.
Also notable is the pressure gradient. We have 1044mb in western Minnesota, and 1009mb in central lower Michigan. That is a fairly steep pressure gradient. The lines ( called isobars) are close together. That means a lot of wind.
According to my observations, it is getting into the unusual range of variability when we get close to 30 degrees outside of our normal high (or low) temperature. Our normal high today is 27F. Here is the NWS outlook for the weekend.
Friday

Not as cold. Cloudy with a chance of light snow. Highs around 20. Southwest wind 10 to 15 mph. Chance of snow 50 percent.

Friday Night

Mostly cloudy. A chance of flurries in the evening…then a chance of snow showers after midnight. Lows zero to 5 below. Northwest wind 10 to 15 mph. Chance of snow 40 percent. Wind chills to 25 below zero after midnight.

Saturday

Blustery. Colder. Mostly cloudy. Some blowing and drifting snow. A chance of flurries. Nearly steady temperature near zero. North wind 15 to 25 mph with gusts to around 35 mph. Wind chills to 30 below zero.

Saturday Night

Colder. Partly cloudy. Lows 10 below to 15 below zero. North wind 10 to 15 mph. Wind chills to 35 below zero.

Sunday

Partly cloudy. Highs 5 to 10 above zero.
So it is going to be a cold one. Be ready for it and it should be a good weekend on the trails. With the 3″ of new snow and another inch or two Friday/Friday night, the trails should be much better than what I rode last weekend. With the cold temps the trails will have a hard time building whoopties, even with some traffic.
Like I said last night.. We have some good events this weekend and you can ride most of the area. Bundle up and get out there and have some fun. March is only three weeks away.
Have a good weekend and thank you for visiting!
RJB