Greetings and welcome!
Yesterday was uneventful for weather. We got up to 29 and down to 6º overnight. We have filtered sun and 23 degrees at 10 am and the day is headed for a high of about 30.
We have some snow to talk about, and it gets better as it goes. There is a small chance of snow Friday night. Right now it looks like snow showers, but if it got carried away we could see an inch or two.
The next chance for snow comes Sunday. Late morning the snow is expected to start and it could go into Monday morning. That could bring 4-5″.
The third chance is our Thursday-Friday storm for next week. The GFS model has moved away from a big storm this morning. It is leaving the northern clipper storm coming over us and the southern part of the storm down south. That scenario could bring 1-3 or maybe 3-5 if it got carried away. Previously the two systems phased and were shown bringing us a bigger storm. The European model is still on board with that, and 5-6″ of snow.
Reminder guys- Next Friday is St Valentine's Day.
I don't have any event changes this morning but they did put a poster on Facebook about the High Falls festivities this weekend.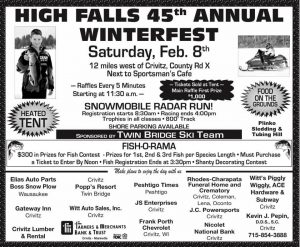 I have a very full day ahead so I am going to run along. Have a good Thursday and thank you for visiting!
RJB